In my last post I spoke of how I'm trying to create new traditions. Since there are two loves in my life that have always been there for me the first being my love of horses and the second my love of gardening.... The Frederick Meijers Gardens seemed like a natural place to head to. I have to say that last year they put a huge big wreath of roses around the neck of Leonardo's big horse... and there was a field of pristine clean white snow that made the whole horse stand out brilliantly. But this view still just pulls at my heart strings as I walk up the path and through the woods catching my first clear view of him.
I wasn't alone on this trip. I had volunteered to take two of our Rotary International exchange students to the gardens. Meen from Thailand and Elisabeth from Norway. I wanted to see what they would think of the trees. Obviously there wasn't a tree for Thailand. Meen however was totally into the trip and enjoyed seeing all the trees and the different glasshouses full of trains and tropical plants.
This was the tree for Canada.... I had to laugh as I actually do have this very same feeling to my tree as you know from my previous post showing the decorations in our house. Is it typical of ALL Canadians? No.. I don't think they are actually trying to say that. Just to show decorations that MIGHT represent or be seen in these Country's as we will see in the next trees.
This was labeled a North American Indian Christmas tree.
This was a English tree. I have to say that I do have two of those cones that I did buy while I was over there!. Yes... they really do put small crackers on the tree. Crackers are still a tradition for our family Christmas dinners.
This is the tree from Mexico.
Surprisingly this is Japan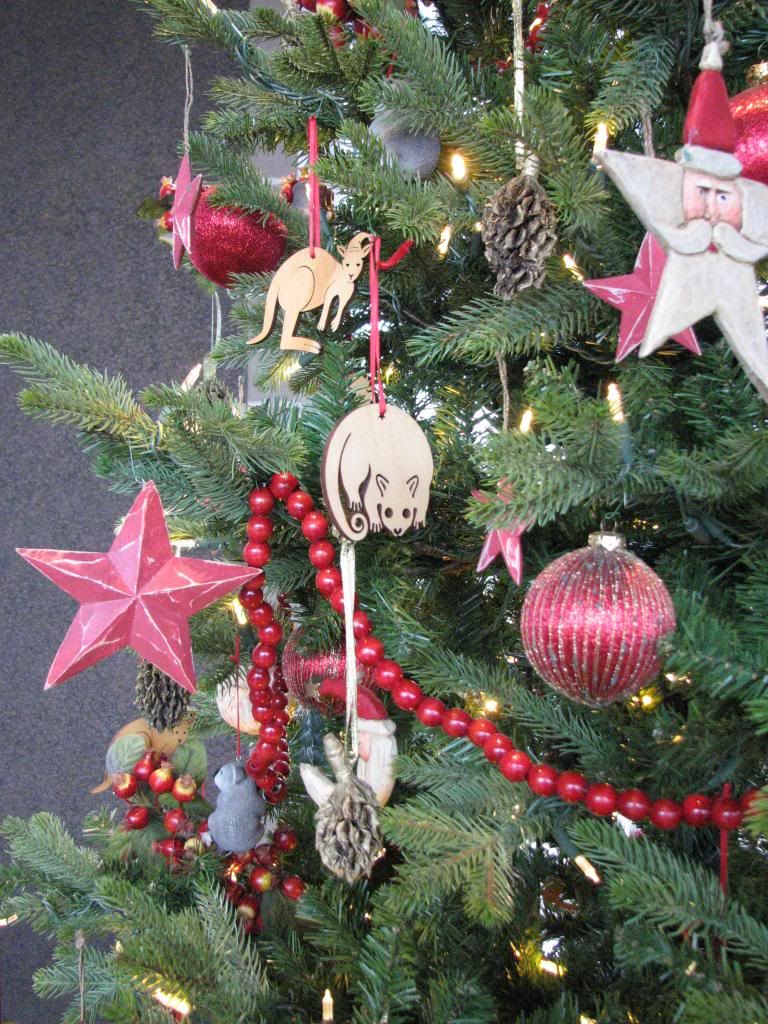 Kayleigh will be enjoying a tree that has Kangaroo's
down under in Australia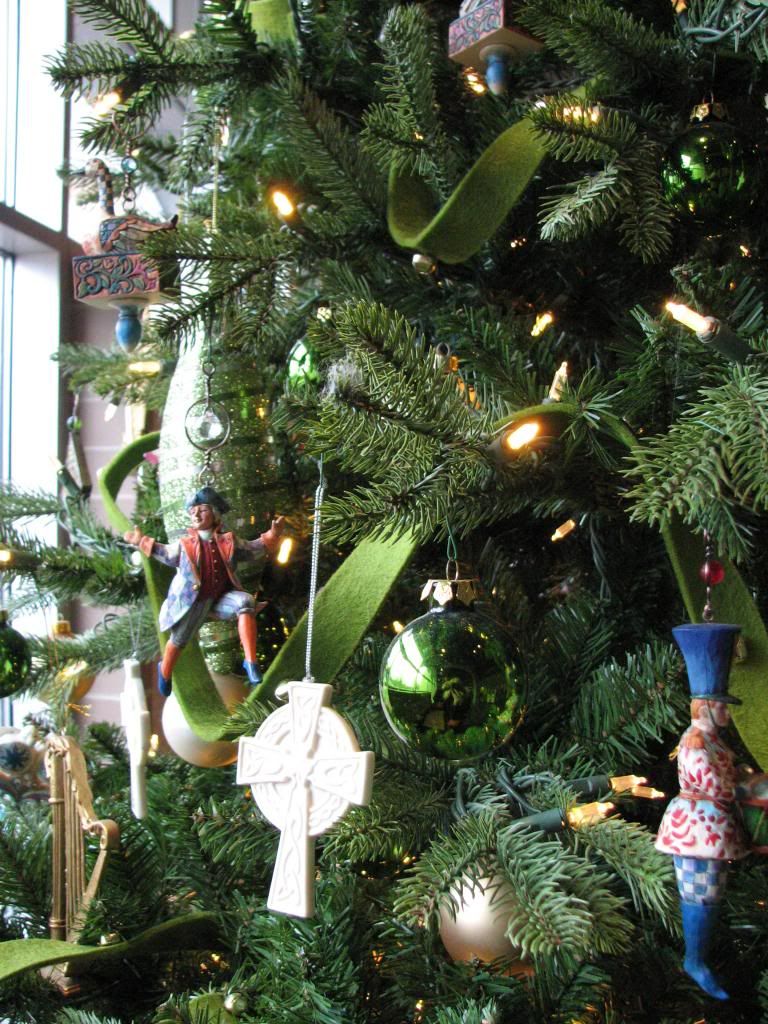 In Ireland they dress their tree in green felt ribbons and
with Celtic symbols.
Elisabeth and Meen
under a very beautiful railway bridge that goes through a few different glass houses.
separate post to follow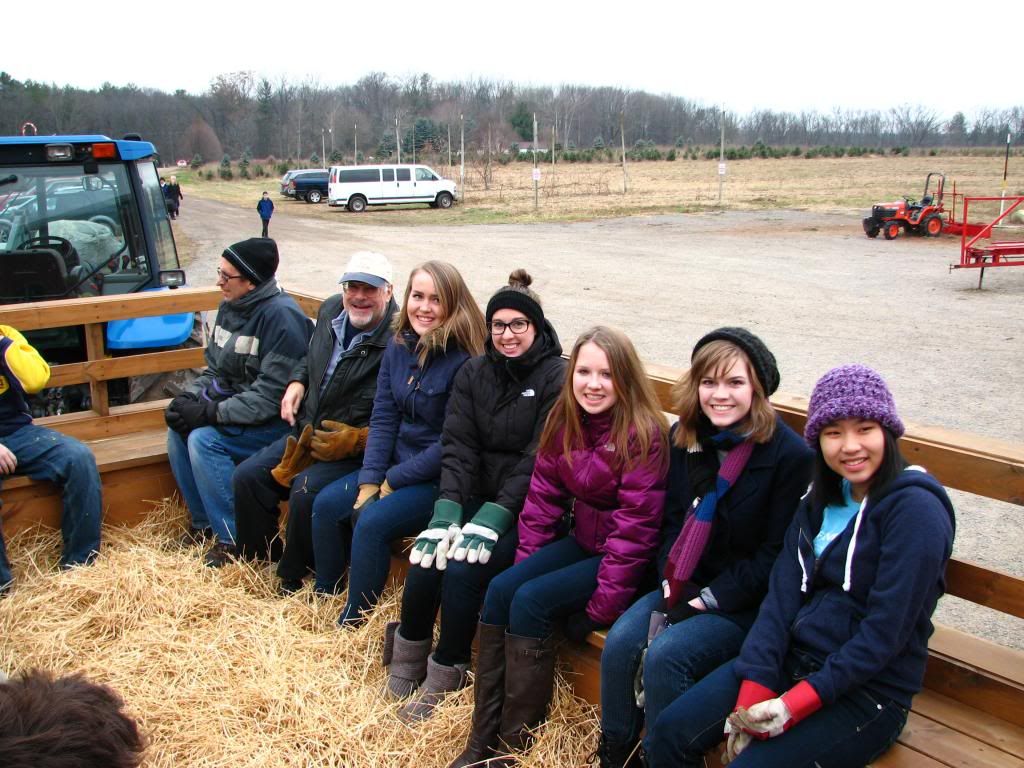 Another new tradition I've joined is the International youths annual Xmas tree event.
They gather at one of the Rotarian's home and then leave in various cars arriving at a tree farm that actually turned out to be just right up the road from my acreage!..
We all climbed up into a wagon
our group just about filled the wagon...and we were only looking for one tree!
When we got off there was a brief exclamation of what all the various trees species were and their different attributes as Christmas trees...
Then they all literally scattered...They did however all find one they agreed on and then they cut it down taking turns with the saw.
we had hot apple cider and donuts back at the barn before heading back to set the tree up and decorate it.
Here we have Tin one of our students from Croatia
Two of the woman who stayed behind and had hot tomato soup and grilled cheese sandwiches ready for all the hungry teens when they got back. I couldn't believe the huge stack of sandwiches and the big pot of soup that they very quickly devoured before digging into all the plates of cookies.
It was a great day. A lot of fun and I'm very happy that these new Rotarian friends all included me in their activity.
Hopefully next year some of my Interact students will be available to join us.
Other activities have included going out to a Rotarian Xmas social and getting together for ladies night which included a movie and some of the most wonderful special popcorn.
I went to the Holland Santa parade and the lighting of the lights. I watched the arrival of the Sinter Klaus on his big white horse.
We have plans to go out to some of the new movies and hopefully a day trip to a local town which is known for its Christmas spirit...
What are your favorite Christmas traditions. Have you kept the ones you grew up with or had to embrace new ones as you got married and joined other families. Perhaps you have moved to a different country and Christmas as you knew it has changed forever.
As I'm writing these last few sentences up in my loft I can see that wisps of snow flakes are falling. We have a snow storm warning for Thursday so this snow may not amount to anything until then.
I best get out and fill up the bird feeders though so that I can enjoy the birds coming in over then next few days.
To all my blogger friends I wish you a very Merry Christmas where ever Christmas may find you this year! I have a daughter in Australia... two back in Canada. I have a friend from Calgary who went traveling with her husband to various countries Mexico being only one of the stops. I have another new friend who just left to go and visit an exchange student she had last year from Columbia. A high school friend who is over in Thailand.
So to all of you... Where ever you may be..
Merry Christmas.