This is the Felt Mansion. I really need to actually arrange to go inside for a tour!
I haven't as yet. I keep suggesting that we do...But, we never do. So its another thing to put on my just go and do it alone list!. The Asian man who actually does my nails told me that it is fabled to be haunted! The surrounding park lands are riddled with various pathway's for walking and the soul reason we go there. Another sport that seems to be growing around this area especially here is Frisbee golf.
As I walk along through a good four to six inches of freshly fallen Oak leaves Im rejuvenated back to my childhood and I just can't help myself from kicking the leaves as I walk.. I delight in listening to the rustling sounds and crunching of the leaves. The Bear looks at me with only the slightest downward frown of his eyebrows. I just giggle and carry on!
Isn't mother nature kind to provide a blanket of warmth for the cold weather that is coming.
Its a spectacular walk. There is a lot to be seen if you look!
I was once told by a lady to walk with my head high... if I looked down at the ground all I would ever see is my feet. Although I know what she was saying at the time.
I have to disagree in this instance.
I love to look for the fungi growths on the decaying trees that are left on the ground.
There is something about this fungi that makes me thing of "The Hobbit" or a fairie village!..
In fact I watched a cute christmas chick flick that I think was called "Christmas with Holly"
It had an awesome fairie house in it that I was very inspired by....a future post!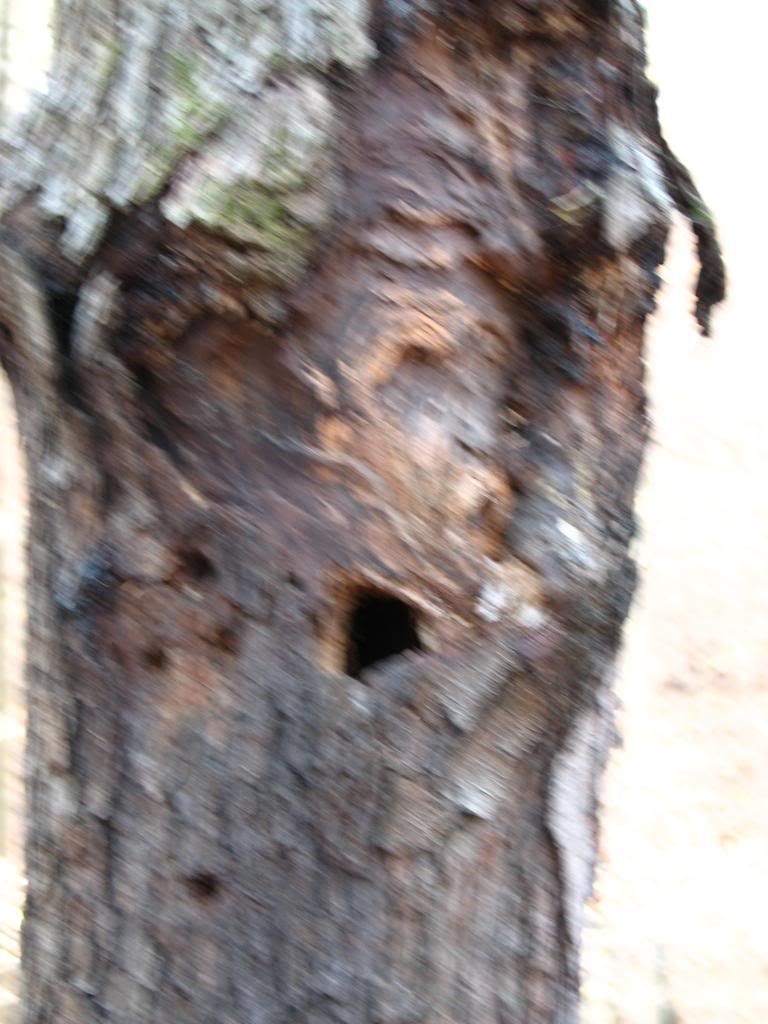 WOW... did I just get dizzy or is this a BAD picture!
The hole that has been pecked into trees by birds in pursuit of insects or perhaps for their own shelters.
Sorry for the poor photo but the Bear and his dog Max who is a Rotti labX, had left me and my 15 year old Springer Spaniel Corgi X way behind! Funny thing is Binx quite enjoys checking out all these things too! He doesn't walk as fast as he used to in years gone by. He still loves to go for walks though and any excuse to go for a car ride!
Its a good 2 miles into the lake the way I go and then I like to walk WAY up the beach enjoying the feeling of the wind on my face..
(these pictures were actually taken a few days ago... we've just experienced a strong storm that created 20 foot waves... Im headed to the beach right after this to see if I can find some neat drift wood for the previously mentioned fairie house as soon as I post this!)
Still no snow on the ground around Hamilton MI...
no... Im not missing it!
It was windy. I never really did catch a photo that truely shows the size of these waves.
Jason you would of had a lot of fun body surfing in them!
Way up there somewhere is where we will walk to and then we will find another trail and walk back to the car making a circle. The dogs go home incredibly happy and ready to crash on the tile floor with the in floor heating. All of us will sleep better that night for our fresh air an exercise.
Im sure the dogs do miss the much bigger acreage we had in Alberta and being outside and patrolling the property keeping the deer out of my gardens.
Its the 17th of December and unless it gets a lot cooler and actually snows. I will probably go out on Christmas day and walk the dogs along this walk again.. Just because I can!
Christmas will be quiet here. Im trying to figure out new things to do to create new memories and traditions so that Im not sitting here constantly aware of being without family.
Again I will be happy for Skype and Facetime.
Where ever you are... No matter if there are family disagreements...
be happy that you have family to disagree with!
I wish you all the very very best for Christmas and the New Year.
Make it the best year in all ways you possibly can.
Laugh often....
Love deeply...