The weather has brought the garden out with a bang. Blooms everywhere. Im getting up every morning and walking through the garden to see what is new. I've even been taking some pictures and then comparing the flowers on my return at the end of the day. My Mermaid is being a bit more modest then usual.
The Tulips continue to change their looks with the additional orange and then yellow blooms adding to the clusters and then the blooming creeping phlox.
Something bright and cheery at the beginning of our walkway.
The double flowering daffodils along the rock wall.
These are in a separate bed along the north west end of our house with the Peris and the Rhododendron and Sweet mountain laurel.
Dwarf Iris at the front of the driveway. These will fade and be over taken with the foliage of the orange Ditch Lily's.
I love the boldness of this deep blue Iris sitting in with all the pastel yellow.
Where it actually came from I do not know or perhaps I missed it blooming last year somehow.
I would actually love to find some more and add into this border.
I think I showed you this beautiful large pottery pot that I got at Jonkers in Holland Michigan
It actually badly cracked and so I picked it up for next to nothing with the sole idea of laying it on its and making it look like the hen's and chick's are spilling out of it.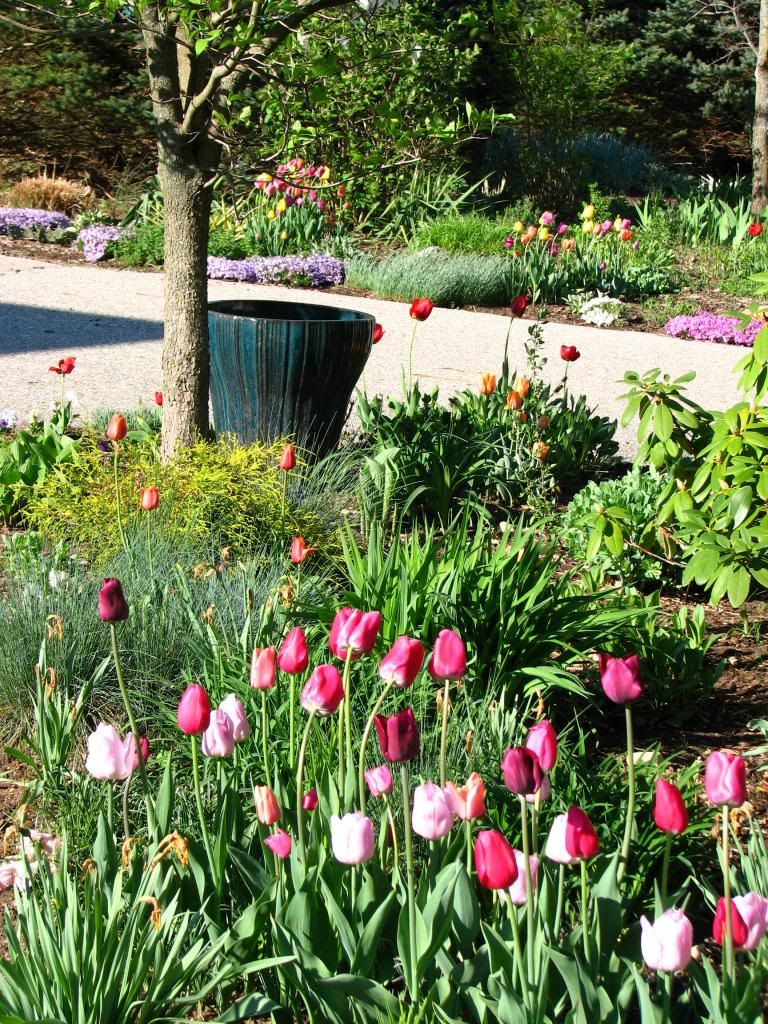 Then to add repetition and balance I added this similar pot on the opposite side of the driveway.
I've yet to plant it up. I will plant it with plants that will contrast and fit in nicely with what will be blooming on this corner of the bed towards the beginning of June.
This will likely be the last post that will show the daffodils for sure as the temperature has been up into the 80's this past week although cooling down considerably for the next few days. We are even expecting rain which is good as we have the usual spring irrigation issues to work out.
Thanks for stopping by and walking my garden...
Come often as its changing rapidly...
Im linking up with Fertilizer Friday .....even if a wee bit late!
http://www.tootsietime.com/search/label/Fertilizer%20Friday~~Flaunt%20Those%20Flowers