Another couple weeks have sped by in such a blurr I'm left feeling like a movie segment where they have fast forwarded a scene of a very busy highway at night....Do you know what I mean? Where all you see is the steady streak of white headlights and red taillights.... It's been a fantastic couple weeks with daughter number two here and her other half Jason. We've been able to squeeze in quality mother daughter time. This has included trips off to other towns enjoying walks, shopping and meals. Its also included us joining the "Funky Buddha" hothouse yoga.... Yep! Its awesome to work my body to that extent again. All I'm saying is thank god for muscle memory because I thought I would have my butt handed to me on a plate!
Tulip time is now over and all the vender's have long since gone home. The tulips are fading fast though we do still have avenues that obviously had the late blooming tulips planted. At Frog Hollow the lashing of rain through out the past couple nights has taken care of what blooms I had clinging on for dear life! Work in the middle bed has continued and I certainly have embraced the change.
Luckily I took advantage of a mail offer for 100 hostas..unlabelled of course and no way to know exactly what your getting. I originally ordered them for the outside beds to give it some distinction. I have now decided that planting them under the limbed up spruce would be far more advantageous.
The order arrived..a big box of four bags of 25 mixed bare root hosta
some of the chunks were a fair size and quite a few were actually smaller then the small one on the bottom left!
The instructions said to soak them for a minimum of six to eight hours.. What surprised me is just how many of them sent out shoots in that time... by the time I started planting them I was able to see the "eyes" on all of them. I went into the bare empty area where I had pruned up the limbs and decided to transplant my Sambucus canadensis or golden elder to add some brightness. I put in a couple Hellebore's, Dicentra and Heuchera's. Then I took the hosta and placed them around. I tried to look at the "eye's" and determine which were likely to be the same and not place them all in the same area. They were actually quite different looking so it will be very interesting when they actually leaf out.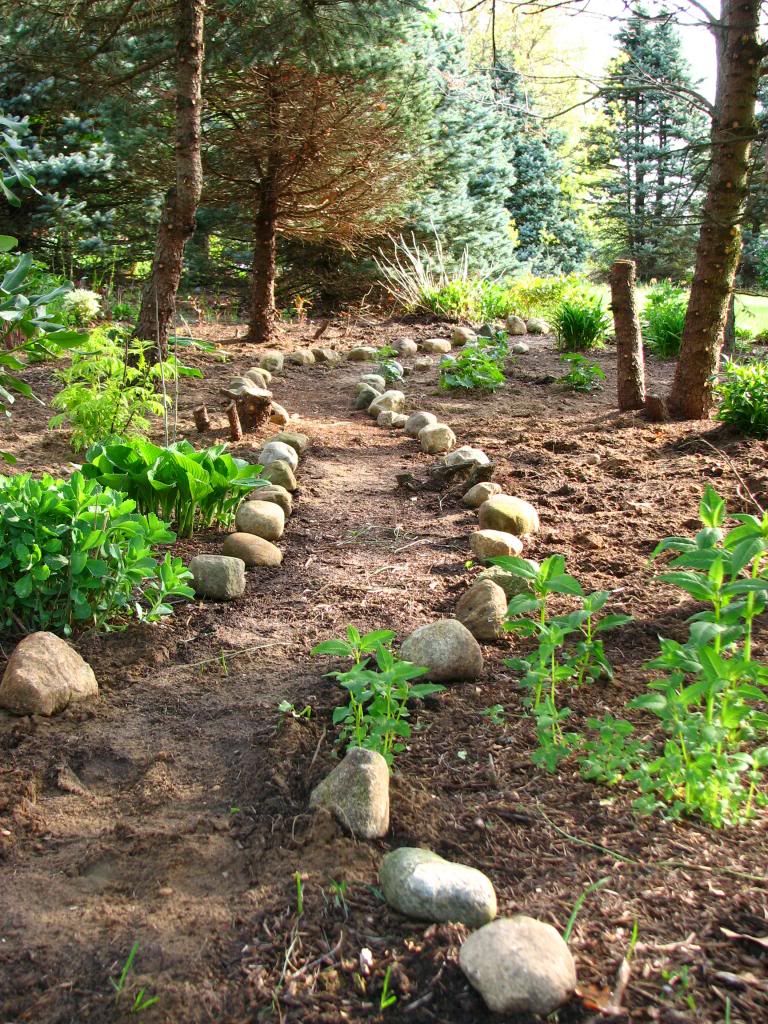 I traced out a pathway where I wasn't going to plant making it easier to get in here and weed without stepping out into the beds. Then I decided to take rocks I had found at the back of the acreage and use them to mark out the pathway clearer. I'm sure I will add to this somehow.
I'm still carefully mulching the original outsides of this bed having let the self seeded starts grow bigger. I likely will not mulch this area letting it have the year to grow and see if I like how "random" unknown species look or if I want to move some! I'm also thinking that adding some ferns along this walk would be a nice contrast in texture. I have lots of other ideas too that I'm not ready to reveal... stay tuned..
/This was a full days work...My reward other then satisfaction was to be eaten alive by mosquitoes and some other critter that have left huge welts. Not at all very flattering to look at when Im doing the hot yoga. However, I do believe that the sweating actually helps get rid of the itch! Have a fantastic week. Whatever you are going to do, do it with all your heart and soul. Give thanks for all you have and please pray for the family's who have again this week lost so much in the EF5 tornado in Oklahoma.
I'm going to try to link up with a couple different mid week links... a year ago I didn't even know what that meant...
http://www.clayandlimestone.com/