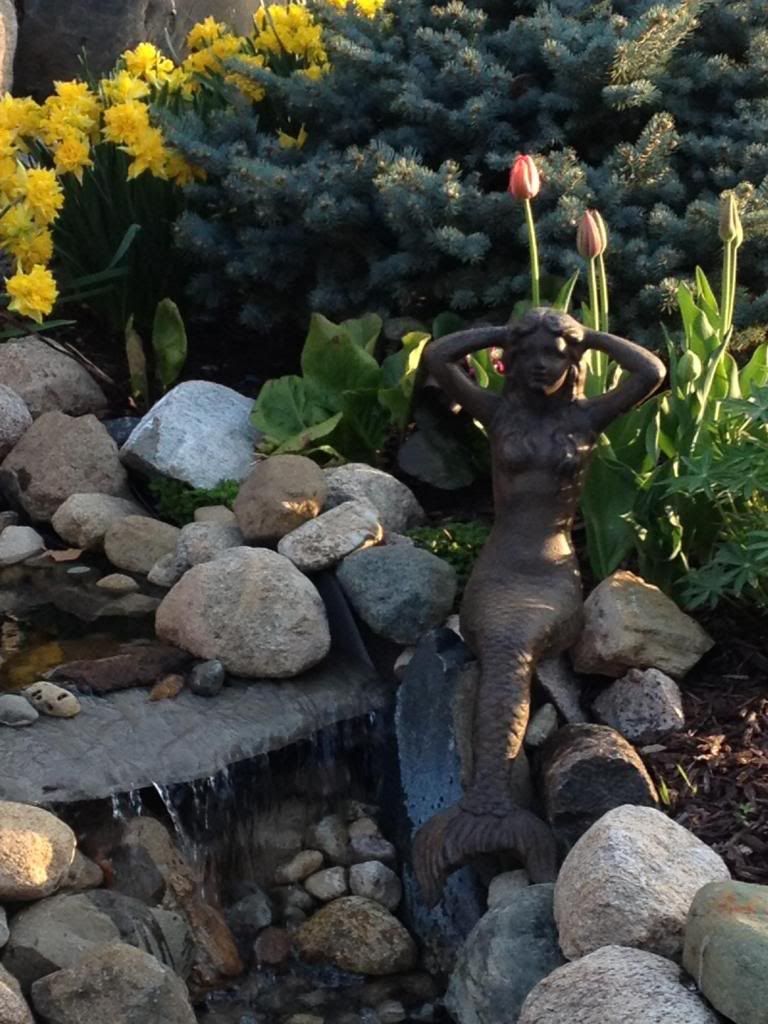 All of a sudden Spring has arrived. It is amazing what three days over 80 degrees did for our garden.
I went out and got lost in the mulching....lifting my head three days later I grabbed my camera to share the wonder that is happening in my garden. First thing I did was to bring the Mermaid outside to take up her post.
Although I appreciate the pastels of spring I can't help being drawn to the bright colours of these tulips
They are in the front beds on either side of the driveway happily saying good bye as I leave for work or greeting me as I drive in at night.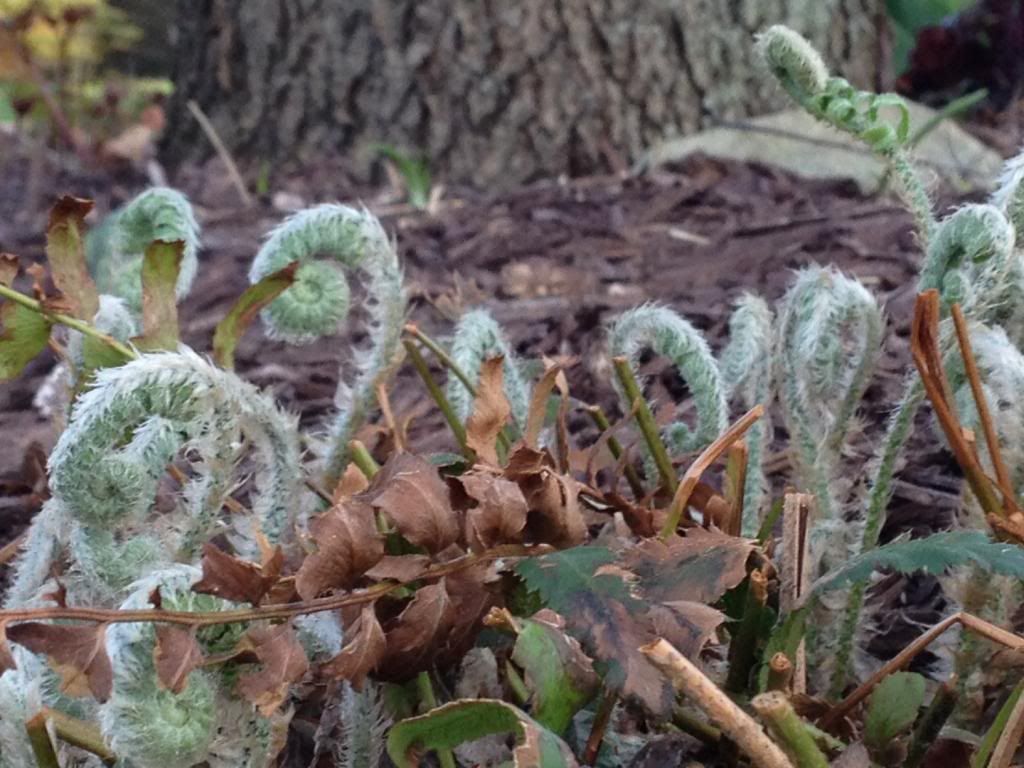 Fiddle heads are wonderful sauteed but I just couldn't bring myself to sacrifice any this year.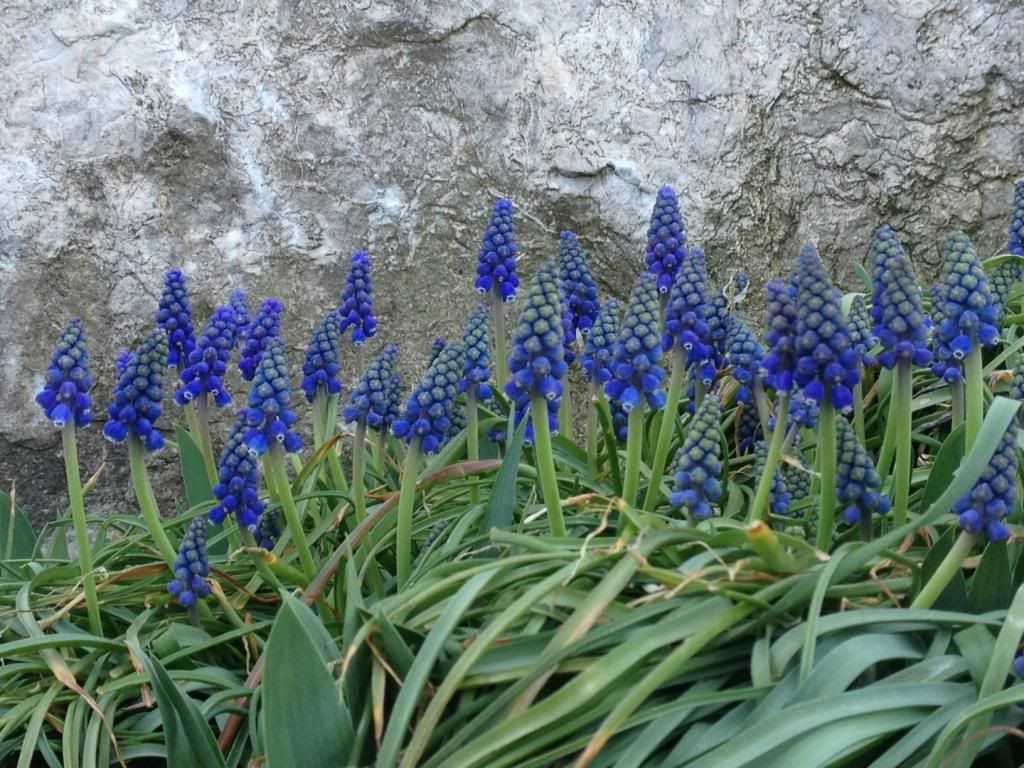 Grape hyacinth is something I haven't always liked but I have really grown to love as they spread and carpet areas of this garden.
This is a great example of how I try to place contrasting textures of plants. "Brutes to dainty".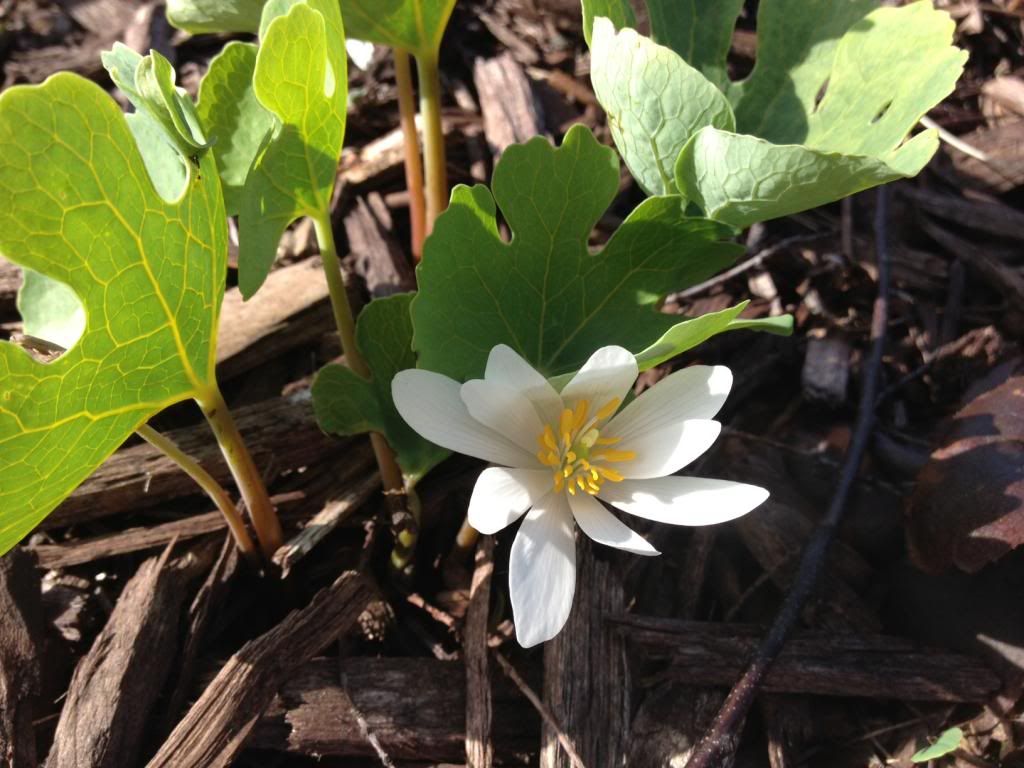 Isn't this Ginger a beauty. Its nestled very quietly at a point of the pond where sitting on a bench you can admire it. Not quite in the White or Moon garden but adjacent to it on its own.. The White or Moon garden was thought of because from the vantage point of our upper deck where we sit and over look the pond in the evening the white flowers or variegated foliage will stand out at night. Does anyone have any suggestions of what I could add to the "Moon" aspect of the White garden?
Marsh Marigolds are stunning at the moment. They are actually in the White garden..But, I figure its okay because they will be past blooming by the time the rest of the White garden gets going. I love the glossy green of their foliage even once the blooms are spent.
This Epimedium is stunning especially with the Golden Nettle as ground cover all around it.
It seems as if in the past ten days the garden has burst forth with an abundance of colour, contrasting textures , shapes and forms. Im eagerly waiting to see how all the dividing and moving things around will look compared with all that I added last year and have to add to it tomorrow.
Holland Michigan is now enjoying our "Tulip Time"... streets are lined with Tulips and fields are all waving colourful heads beckoning tourists to stop and admire. Street performers will be out along with the traditional wooden cloggers all proud of their Dutch heritage. Its an amazing place to be. Why not come on over and join in all the fun....
I hope you have enjoyed your walk in my garden. Please let me know you dropped by.
PS... I received another wonderful surprise May 1... I was expecting to go Sunday and pick up my number two daughter who has just spent the past year living over in Australia But, Bear who turned 50 on May 1 actually spent his day driving to Chicago and back to pick her and her beau up so they could surprise me.
I do love surprises.