Bye bye July....Can you believe it?. It was a cooler week here then normal with temps down to 60 and rain. It felt more like fall. It actually gave me a chance to transplant some lilys that were missed last fall so I had reds where there was suppose to be pinks and purples etc. I managed to get 7 hours of weeding and dead heading done. Another bed redesign basically.
The Moon garden is starting to glow with the white flowers and the varigated foliages.
This year I put out sunflower seed in the bird feeders......the chipmunks decided to add to my landscape and I've been pulling out like pockets of sprouting sunflower seeds. This one group I decided to let grow just to see what happens. Kind of a punctuation mark to show the garden tour in late August.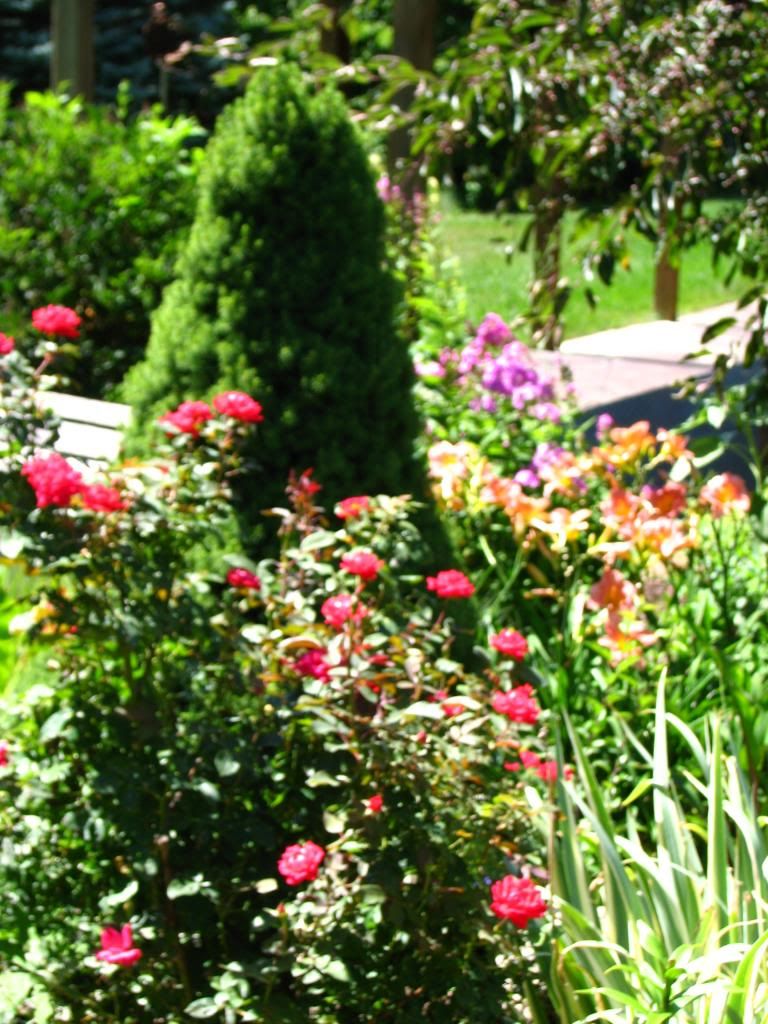 I know this photo is not as crisp as it could be but I liked how the colours feel soft and soothing.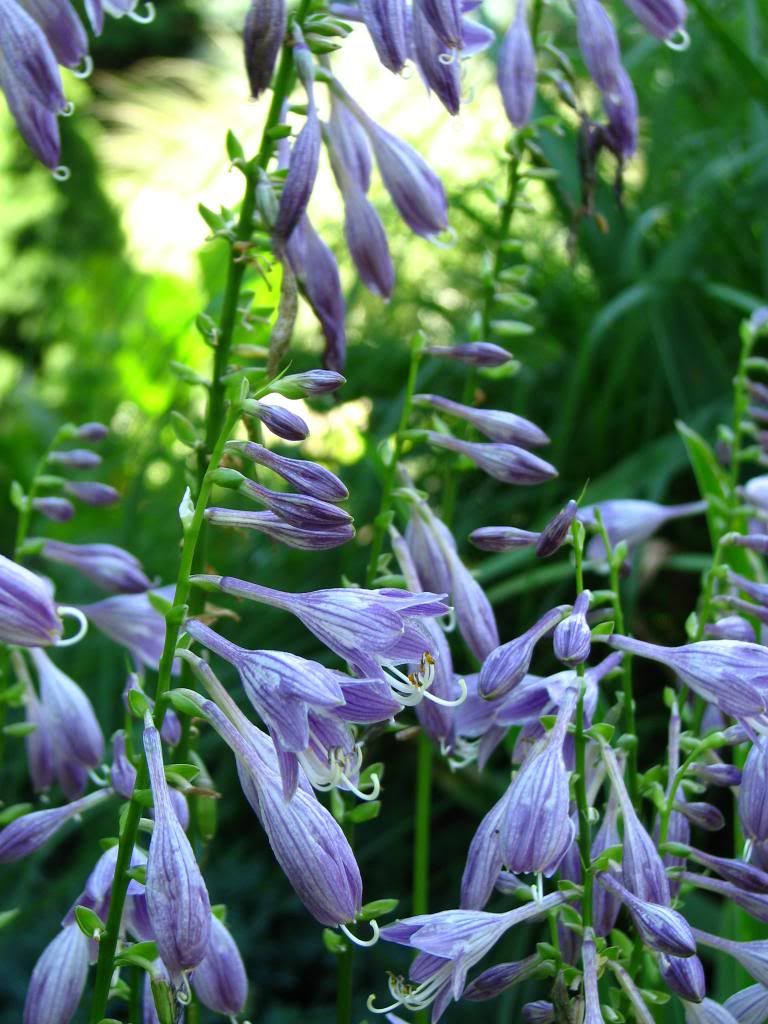 The Hosta's are blooming like this all over the garden. The hummingbirds are very happy. So far I have seen up to 7 hummingbirds at one time.
Monarda at the shade garden entrance. This red one seems to be far more mildew resistant then the shorter pink one that is along the front walk way. Im going to remove that one in the fall. Somewhere where less splashing of water happens and perhaps it will be happier...so will I!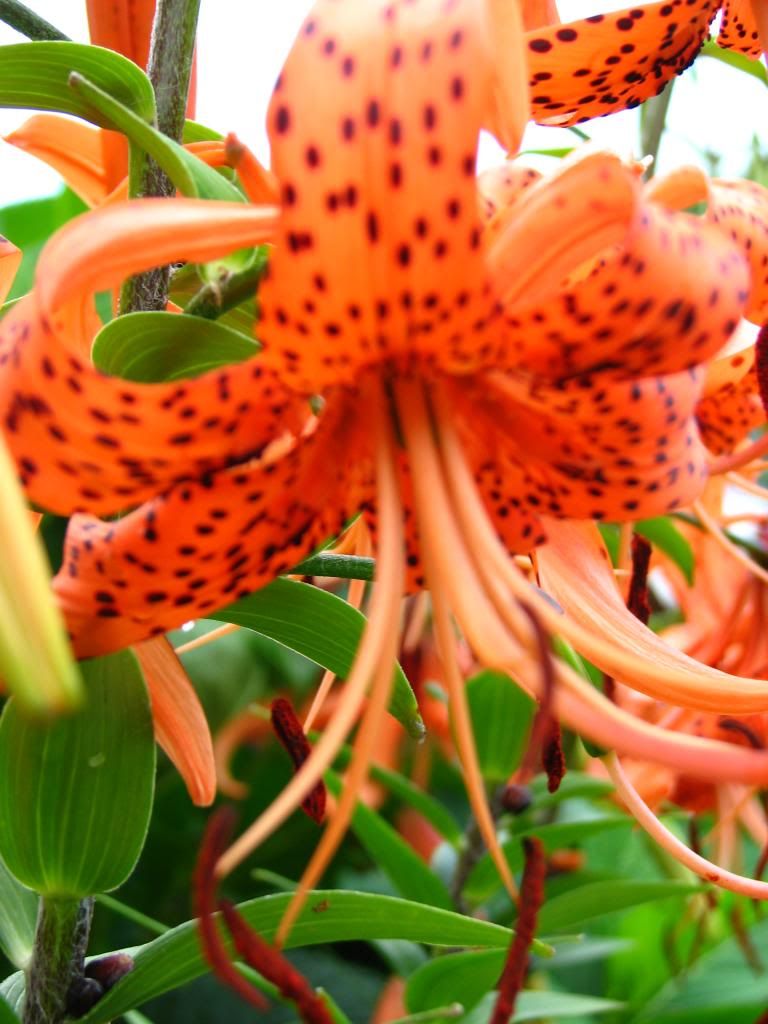 Tiger lily a long the front walk way and under the weeping tree on the east side of the pond. There was only three single stocks two years ago but careful placing of the little black seeds or aerial bulbetts as seen in the crouch of the leave at the bottom left hand side has created a few groupings of ten each... I even planted some more this year!.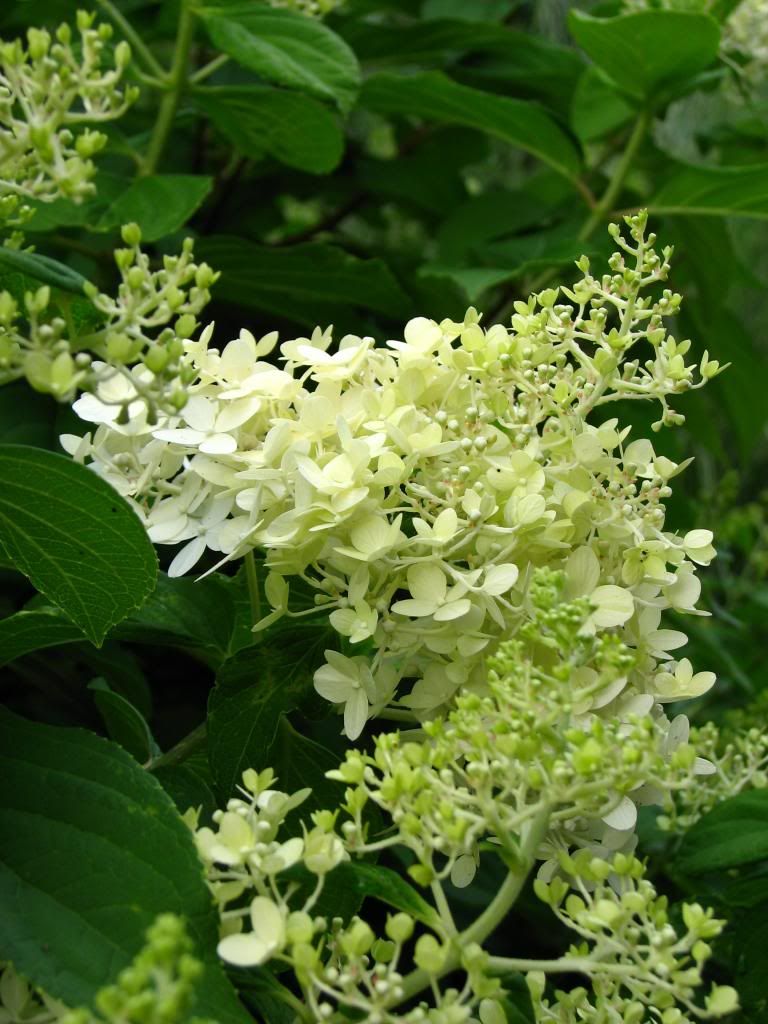 Hydrangea just starting to bloom at the entrance to the secret garden. I only have the one of this particular variety..name unknown for sure.. I am starting some though from green wood cuttings and Im trying to start one from a lower branch that I have stapled to the ground to get to root.
Phlox and Rose of Sharon
Im always looking to see that there is contrast in colour, texture and forms
I've been told that a great way to see if there is enough contrast in your landscape is to take a picture and print it out in black and white. Has anyone tried that?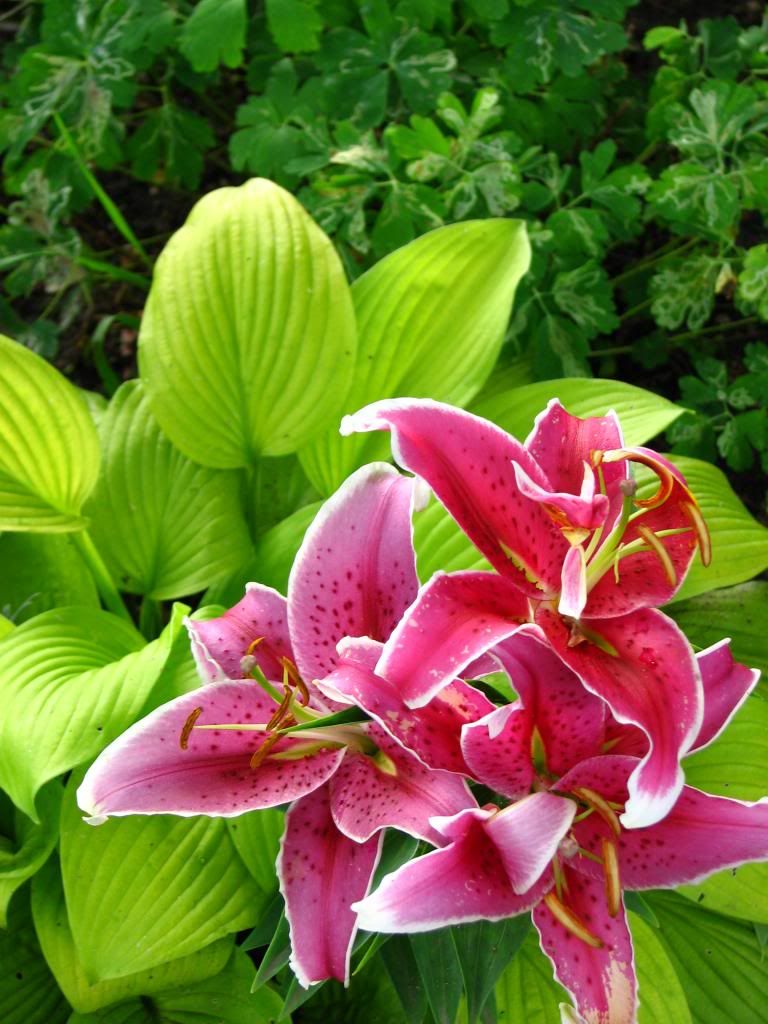 I love the colour of this lily against the lime of the Hosta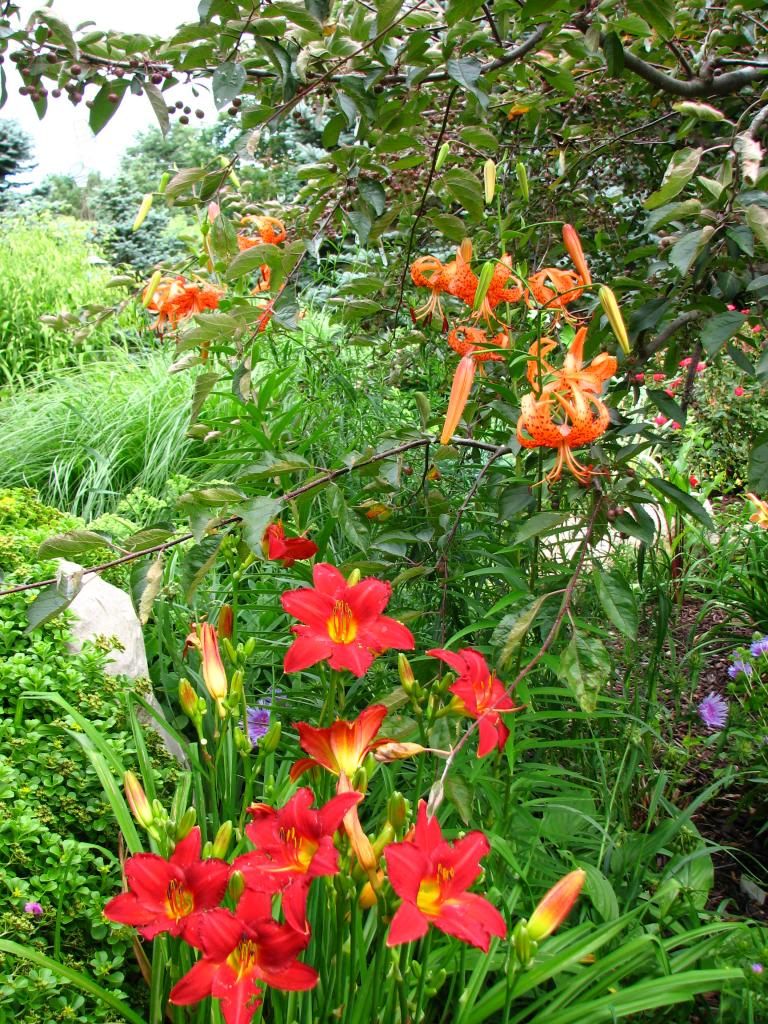 More red lilies where they arn't "technically" suppose to be. But I do love this look..so..I think it might just have to be one of those very fortunate happenings.. a Serendipity..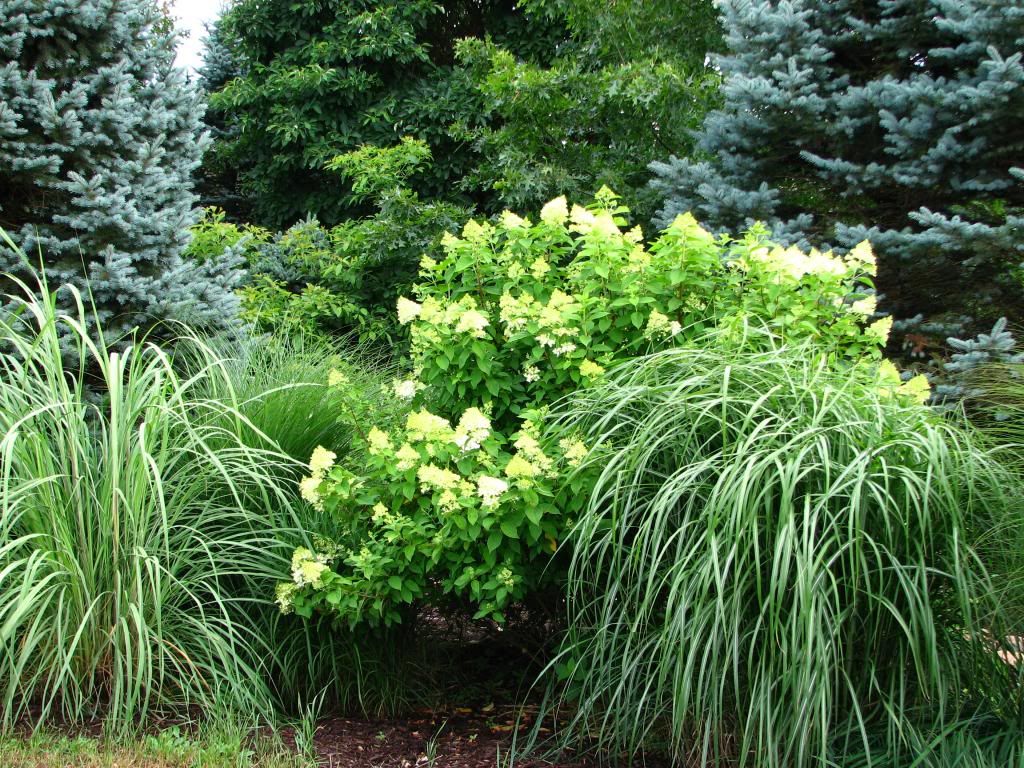 The Hydrangea at the outside of the Secret garden and various ornamental grasses.
the grass on the left will put out shoots that will flower and be as tall as the blue spruce.
Crazy busy week again. Im loving it!. I did say goodbye to daughter number two and her beau as they take off on another road trip headed to Nova Scotia. I shall miss them both and all the fun we had together.
However, I am proud of how all my three girls have grown and their love of life and adventure.
Thank you for stopping by and walking my garden. Please leave me a comment so I know you have been.
Kate
Im linking up with Fertilizer Friday and sharing my garden with all the followers over there as well as discovering other blogs to read for my own enjoyment..
I have a weekend project that I've been planning for two years now.... How are your weekend projects coming along. Its an eye opener with July now gone. Its also exciting living here though and knowing I will still be gardening way out into the end of October...
Live your life with true passion and abundance.