Bear and I have both been so busy that its easy to fall into the habit of just not communicating. We needed a weekend away. At first we thought we would go camping something that we both love and which really was one of the glues of this friendship and later relationship. While living in Alberta we would go camping every weekend we could out to the Kananaskis or Waterton. Camping, hiking and fishing. Then Bear started a very busy period of traveling for his work and I went onto the weekend shift as foreman for the parks division of City of Calgary. ( A job I loved and still miss) Anyways we haven't been out camping for years. Somewhere in the past few years camping supplies disappeared and so we decided rather the rushing out and buying the wrong tent in a rush we would go up to Frankenmuth. Its know as the Christmas town because of Bronners. WOW... I love Christmas and even I was a bit over whelmed.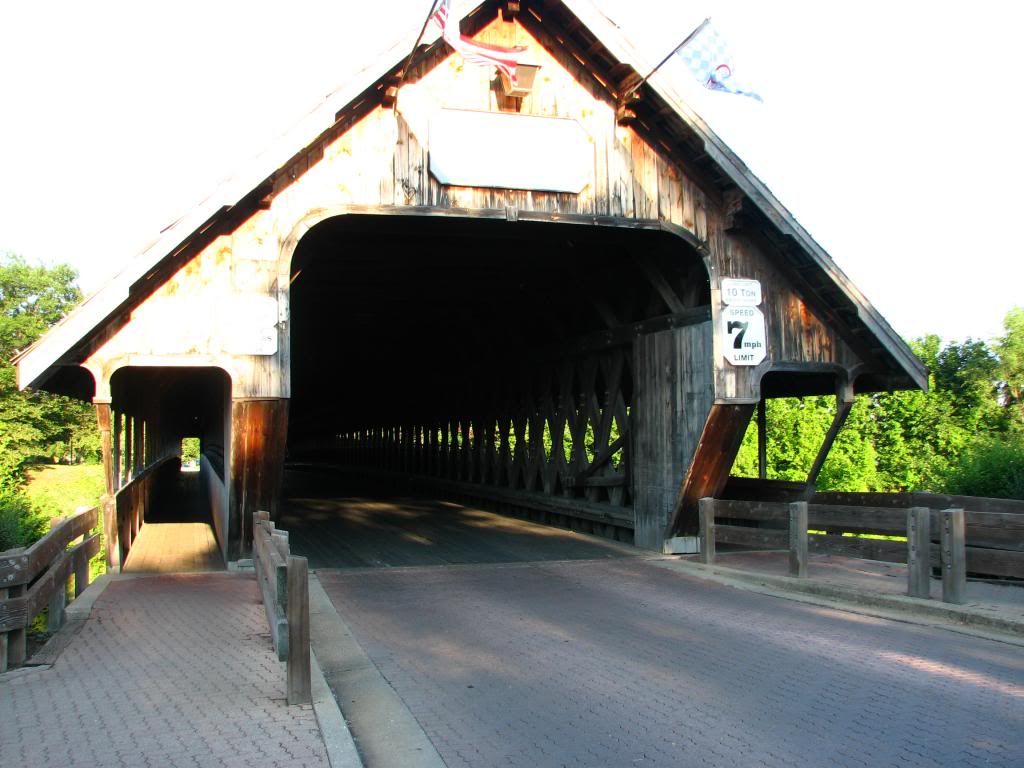 Going into the Bavarian Inn lodge where we stayed there is a covered over bridge. Absolutely beautifully constructed. After getting into our "upgraded room" which had a jacuzzi in it... We decided to go for a walk through the village. Walking through the bridge you have a beautiful view of the river both sides and are treated if timed right with a close up view of the River Belle. A boat that will take you for a hour cruise complete with interesting information of the towns history.
But this is a garden blog so no history here! I love how Holland Michigan plants out I think 8 miles of "Tulip lane" but look at this... We did stop of listen to the various bands. Watched a dance group of various ages and styles for quite a while. I felt like I was in Stars Hollow for anyone out there that watched Gilmour girls..oh! by the way the rooms are all named with German last names and "Gilmour" just happened to be one of the rooms.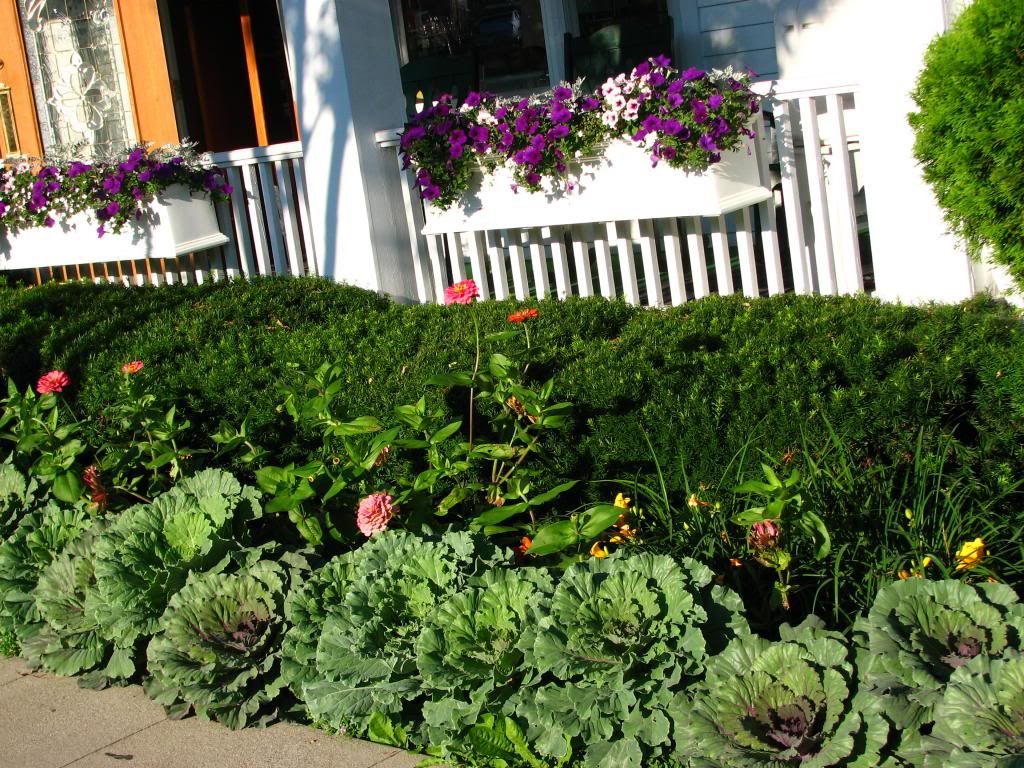 I use the ornamental cabbages but look at the size of these.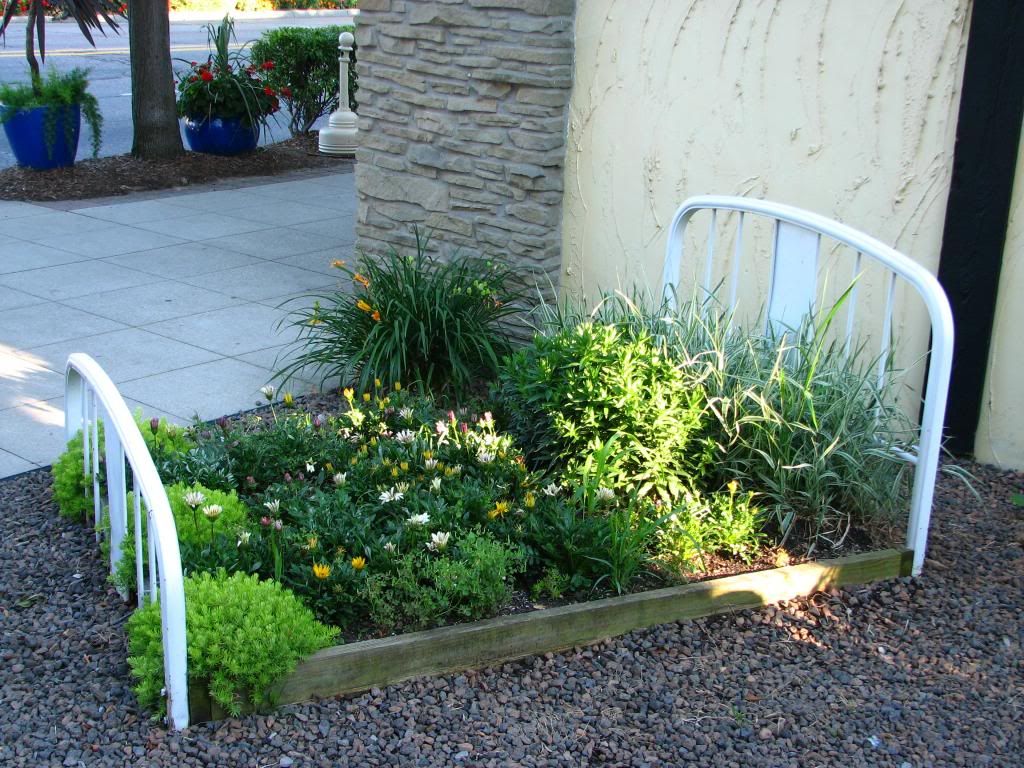 This was outside of a Woolen Mill shop that sales quilts and the bed was planted to look as it was "quilted" with patches...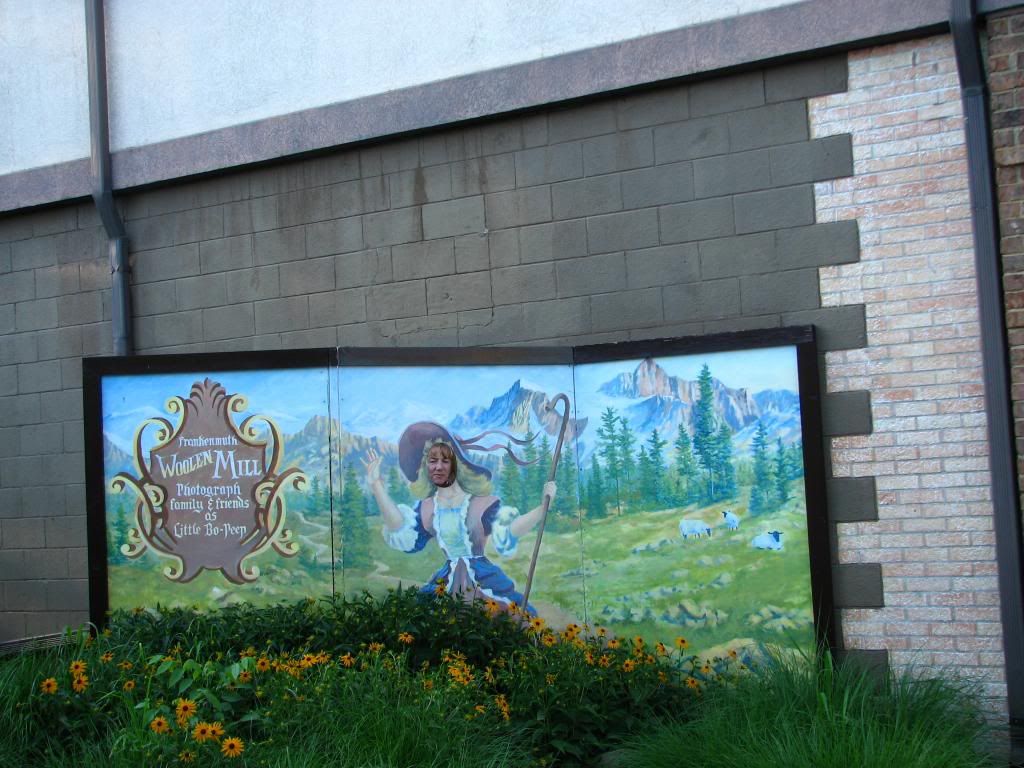 Whats the fun of being a tourist if you can't have some fun and be silly...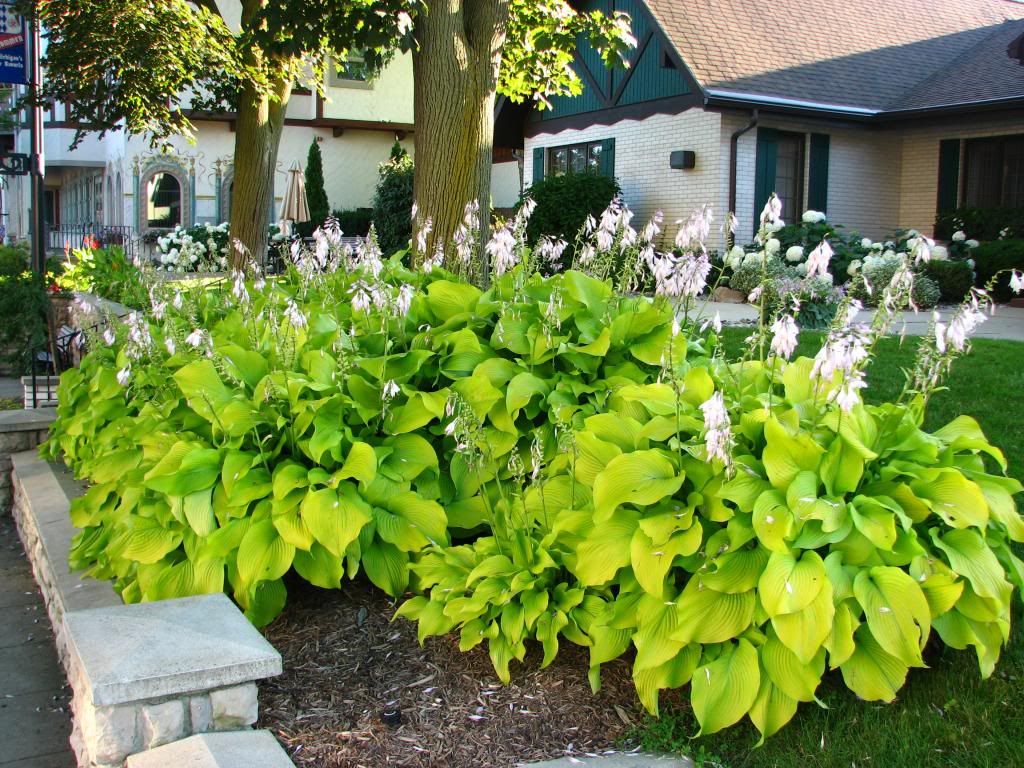 I love the brightness of this chartreuse hosta.
Sculptures and art in a garden always capture my eye. This I found very beautiful. It embraces the spirit of the dancing going on just down the walk.
There are little gardens outside every business. The town has really created a very beautiful setting.
I'm giving you only a small appetizer of all that is there to be seen. After all....It really is far more beautiful in
person. Be warned though... There really isn't alot of veggie served with the meals and on a very hot day when I wanted a salad I order a ceasar salad for $7.00 and it was smaller then the Bears side order of garden salad for $2.50. literally a small bread plate and about a cup of salad! We did go to that particular outside venue to eat though because they had live music and Marty Veers is an awesome performer singing a wide range of music. Bear was impressed with his guitar playing. In all fairness to Oma's restaurant..I did fill out a survey with details of the experience etc and they sent me a reply email back with a gift certificate thanking me for the survey. Its nice to know that not only does someone read them but that they will use it as a training experience with their staff.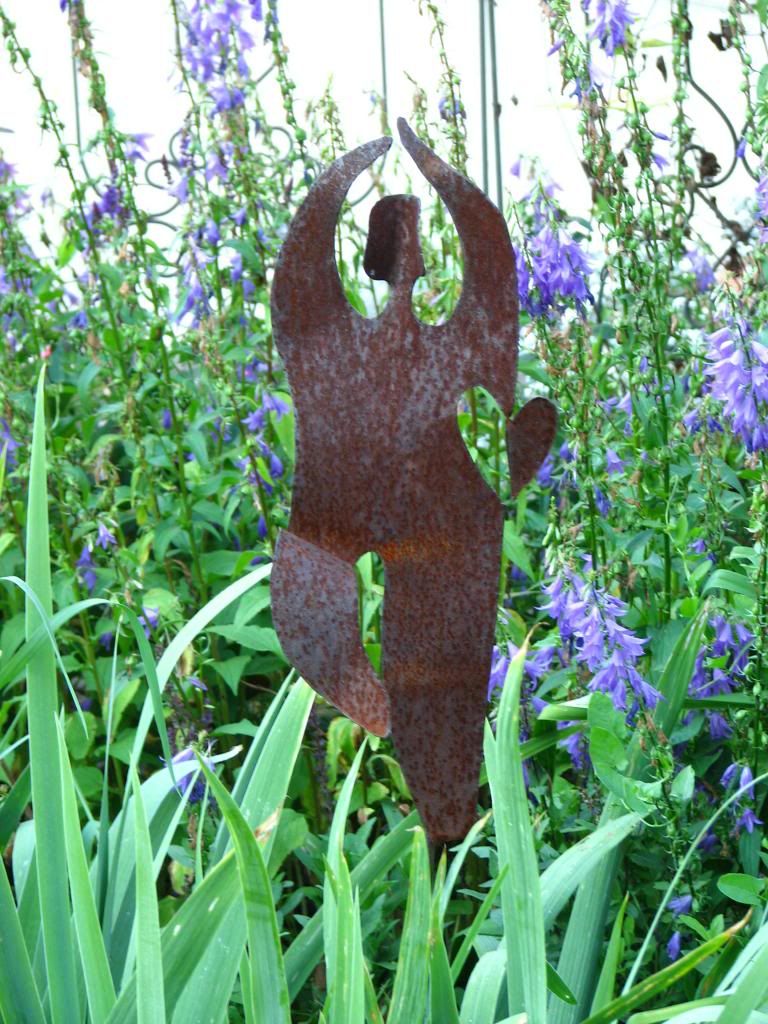 The spirit of dance is seen everywhere in this town. PARTY is a big thing here in a very family orientated way.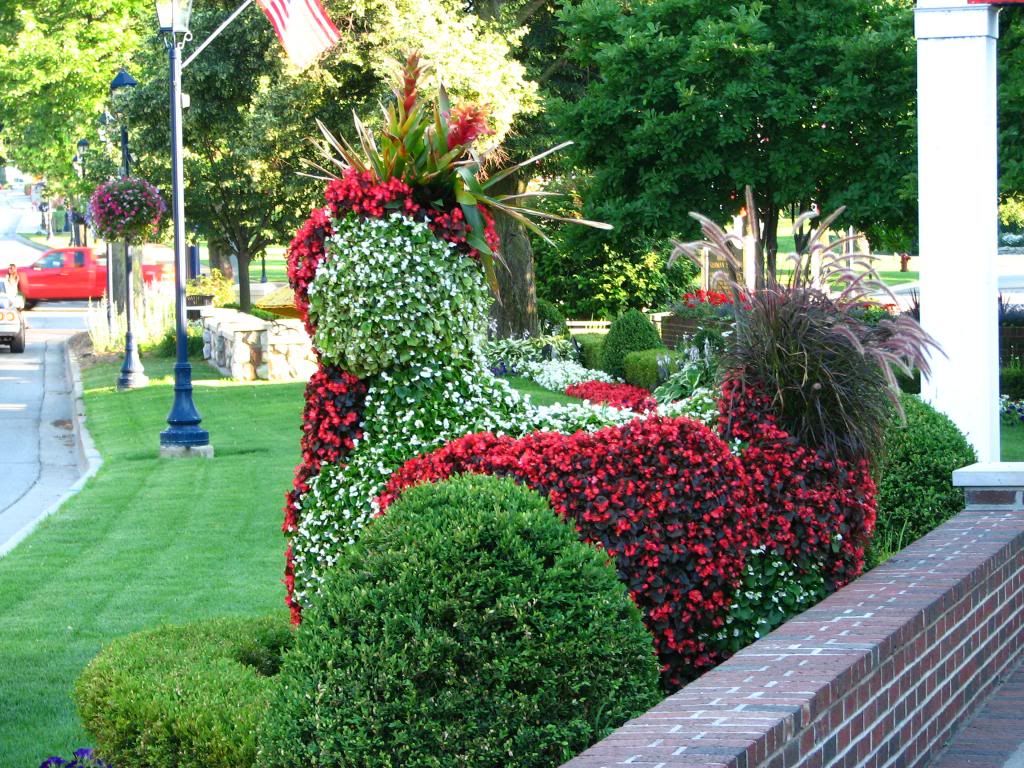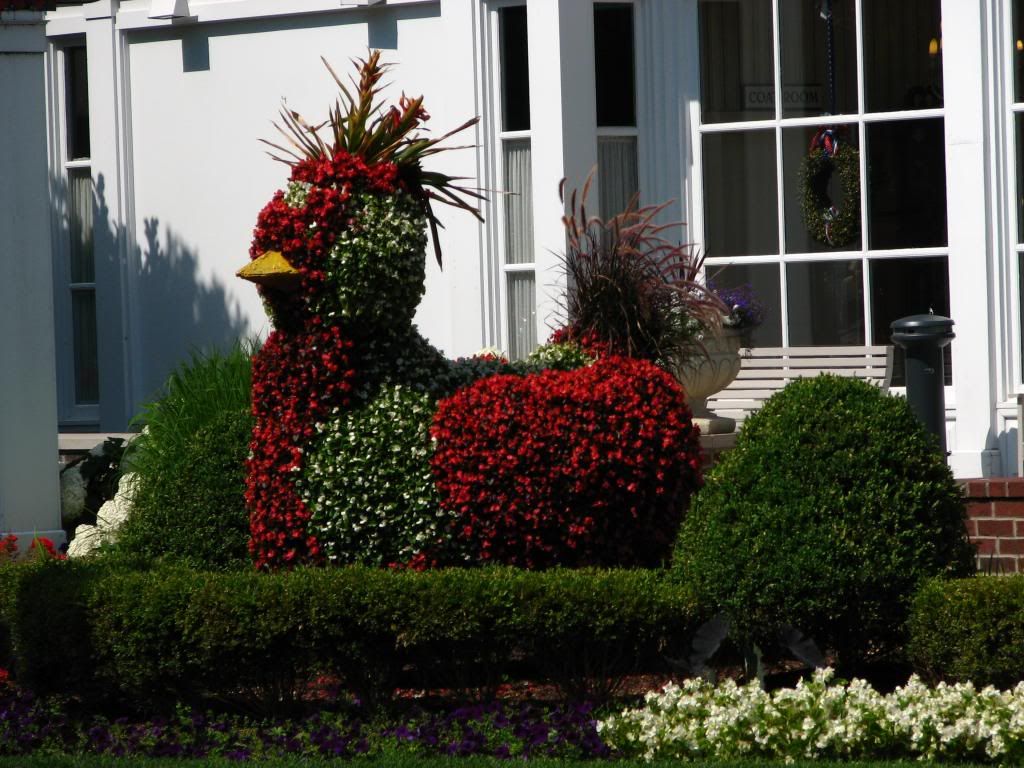 This just made us laugh... Its outside a "Famous Frankenmuth chicken restaurant"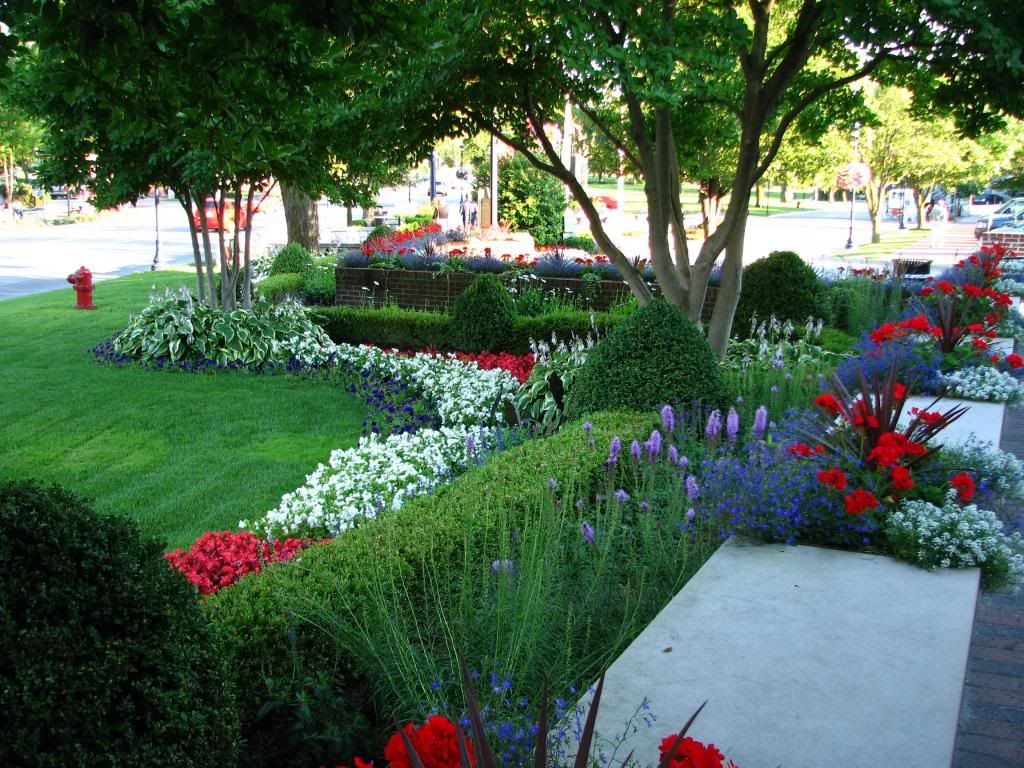 I mentioned to Bear that the boxwoods are sheared into an egg shape because he sometimes will miss things like that... A group of people standing there taking pictures were all surprised..apparently they had missed that too! We did ride on the boat, watched a dog demonstration and shopped. I bought a Mariano wool long Aran style sweater for under what I know I would of paid for the wool here in the USA not to mention the time it would take to knit it. I can knit fairly fast..... All in all I'm looking forward to coming back. There is a lot to do here and festivals of different natures going on all the time.
Where have you been this summer and what plantings have inspired you.