This has been such a busy year for everyone with the very wet cooler late spring that then caught us all off our guard because everything got busy at once. I actually just didn't have the time to put into creating all the pots, planters and baskets that normally would be on my deck. This year though I did actually put some pots out into the beds as the pots themselves were bought to add to the display of continual colour...
I went with a softer combination of colours this year as I have the seating there and I realize that softer colours are more pleasing closer up and the brights and vivid contrast are better a bit further away from the eye. I've been trying to use that as a way of planning the colour schemes viewed from the top of the deck too! Pastels and softer colours closer to the house and the sharper contrast and brighter intense primary colours across the grassy sward.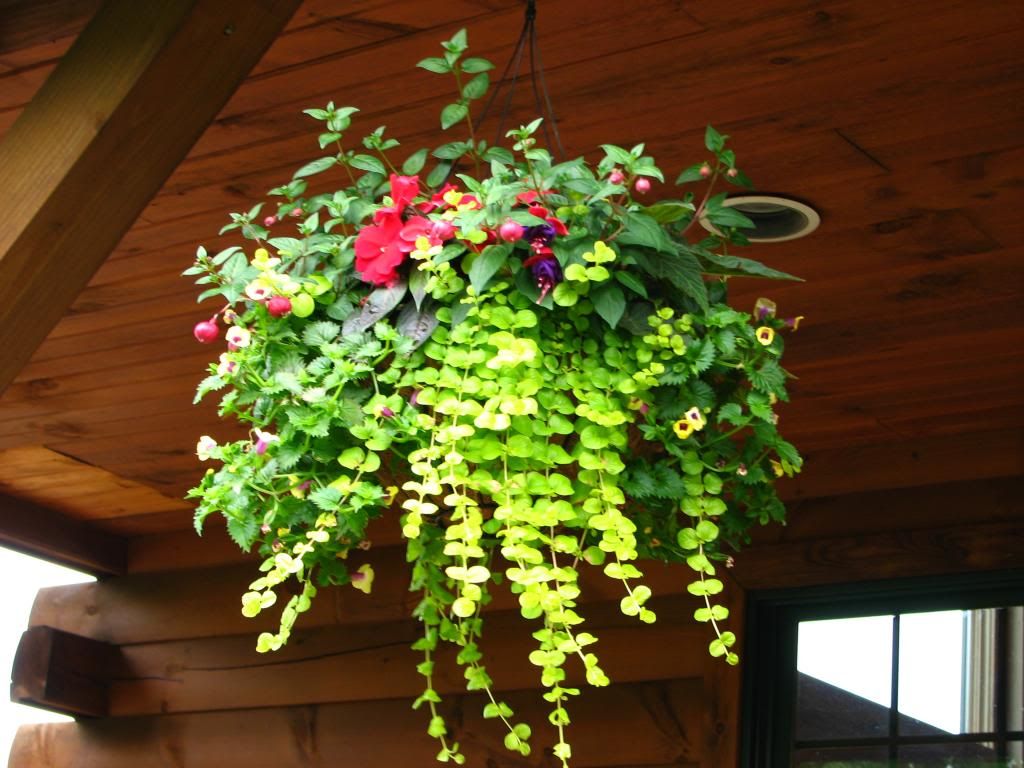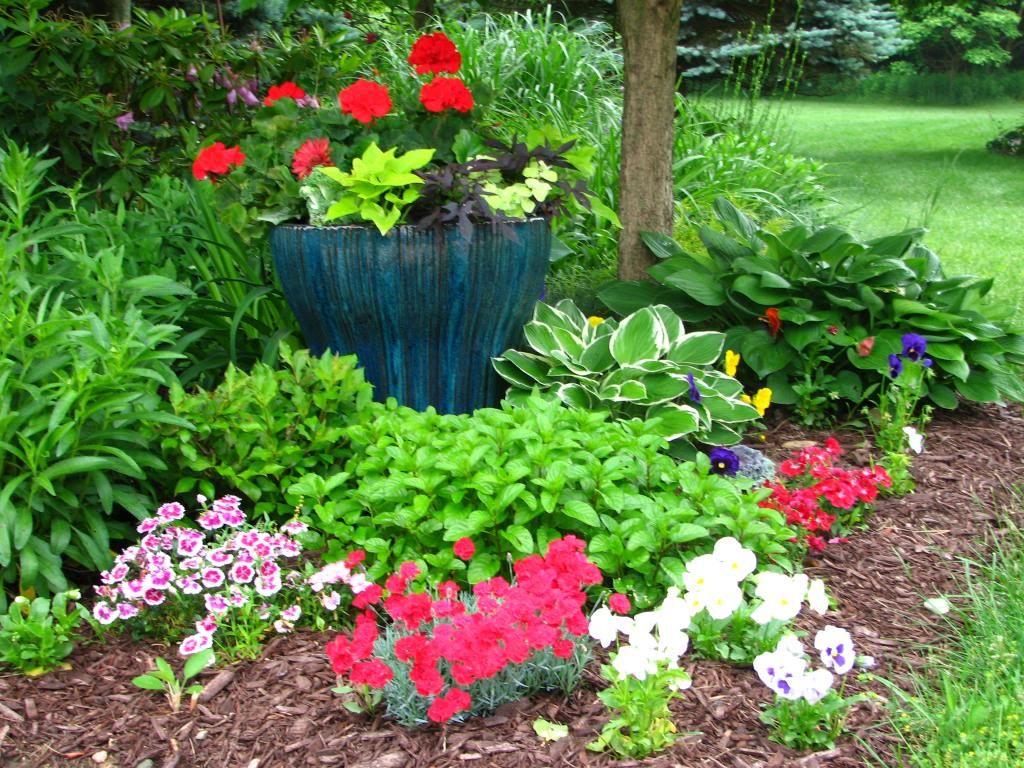 This was one of the pots bought in a 70 percent off sale last fall from Jonkers garden. I plan on adding to my collection this fall.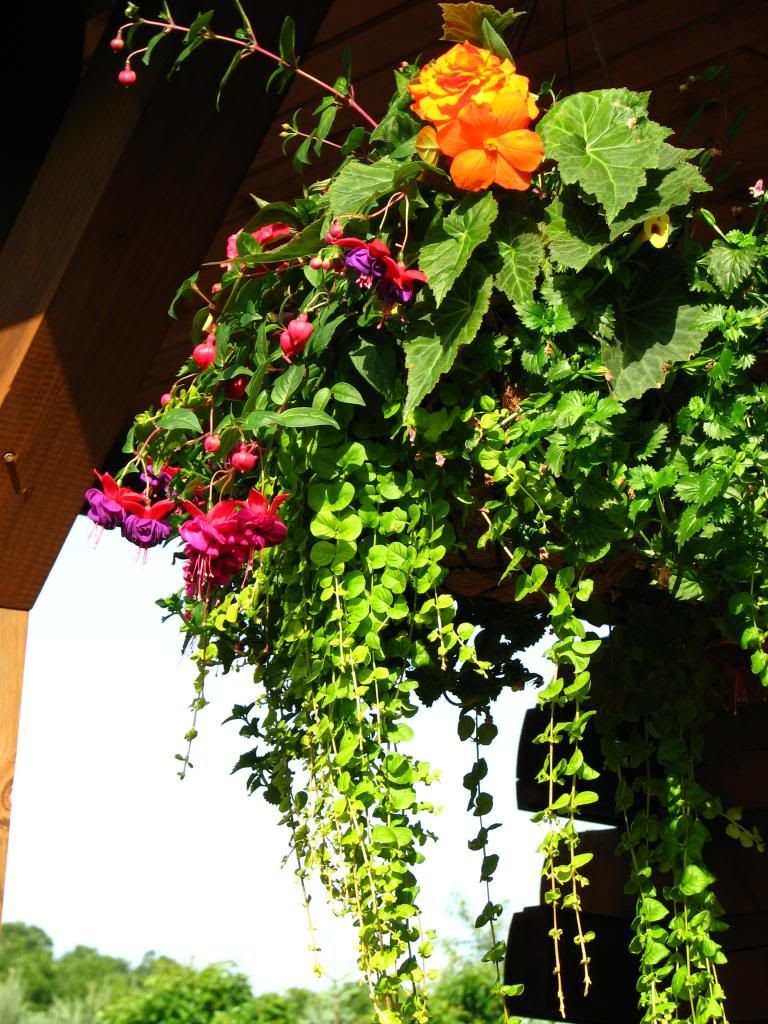 I love the SHOCK of the orange in this pot. especially when its turned to the dark side facing in on the deck.
The combination of flowers in these hanging pots has continual flowers and the hummingbirds love them.
another one of three pots bought with the same colour scheme although each different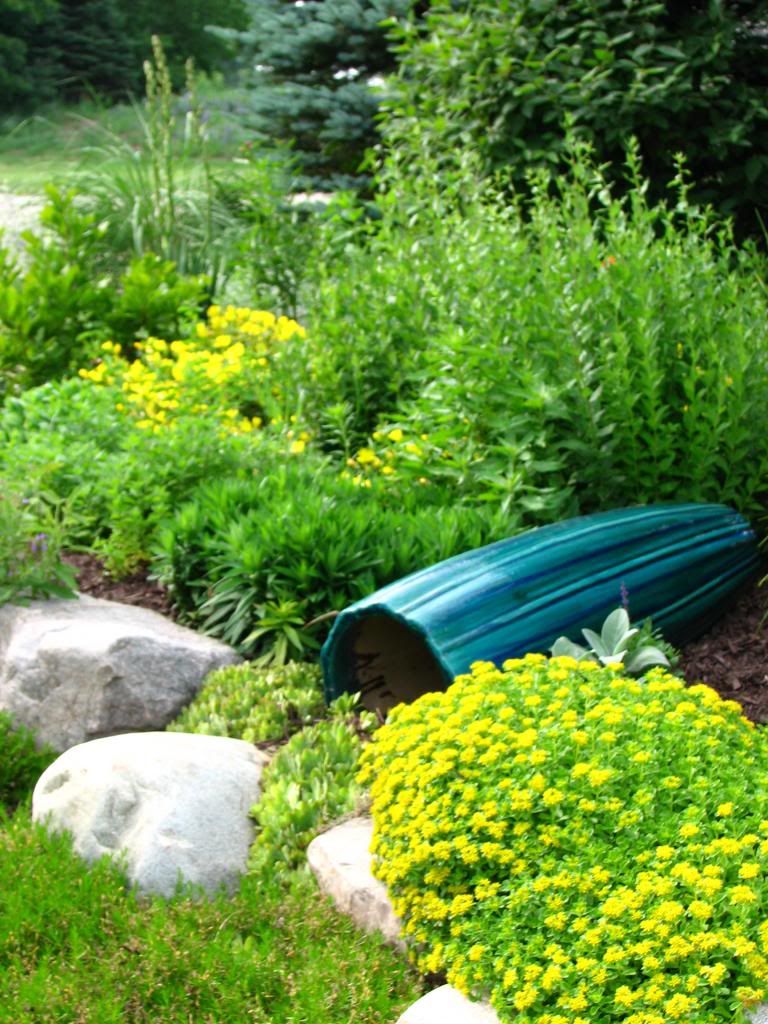 This one is still one of my favorites... what splash of colour as you drive in and depending on what is in bloom at the time it adds a total different effect.
Fuchsia's have always been one of my favorite hanging flowers. Probably because my Dad loved them. He also loved this one in particular where my mom liked the softer pink and white one.
I love to sit in one of the over stuffed wicker chairs I reclaimed and blogged about this spring. Its not but three feet from the fuchsia and each morning I've been treated to a ruby throated hummingbird flying down and hoovering to take a look and thank me for the food I've provided him.
I sit there as I first get up having my morning cup of tea... letting the sun warm me as it raises. I forget to be prepared though and have missed several great opportunities for snapping pictures of hummers or what ever critter is still hanging out by the pond.... There is a lot of summer left though so here's hoping!
I've missed all the pots I did last summer and especially all the heritage tomato's that I had up on the deck. There aren't any readily available snacks now while I'm sitting there reading or enjoying my morning tea.
Thanks for dropping by...
Leave me a message I do answer every one and even check out your blog if your a blogger
What ever you have planned for the week a head I hope you make it awesome...
Kate