Well hello again. Its always great to have visitors in the garden. Theres always refreshments in the kitchen so help yourself, stay a while and enjoy. If you have any ideas or comments or even corrections please drop me a line and let me know. After all isn't that how we all learn and grow.
This is another show of what is happening over in the dry bed. The nine Crocosmia I planted last fall did come back and are starting to take the center stage in this bed. At least to my eye! I love this plant. Is it because in Alberta Canada where I moved from I could find it but it wouldn't even winter over. I've planted it in front of a big group of bearded Iris so that that they are blooming in different times and as the colour scheme changes in this bed through out the season. Do you have a favorite flower you combine with your Crocosmia... I believe this one is "Lucifer"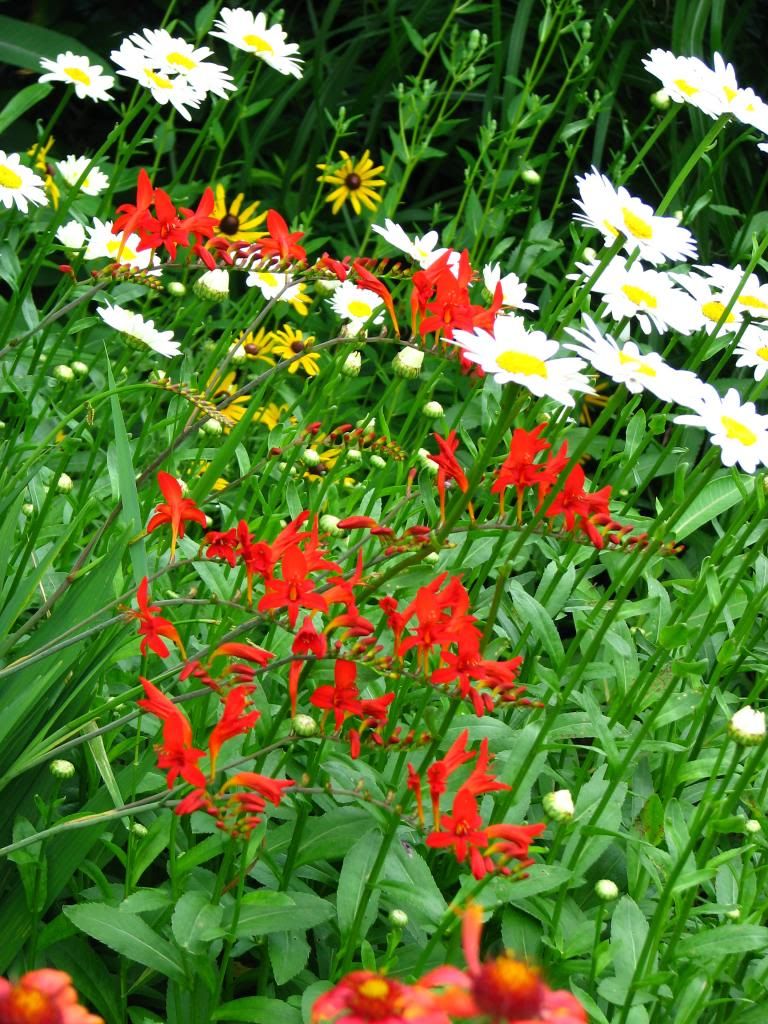 Its actually starting to thicken u and really make a splash set off by the white and I had planned on having blue balloon flower blooming at the same time. I've cut back the balloon flower and half of the daisy so that there will be something blooming next month for the next garden tour. I wasn't willing to try that with the Crocosmia... Does anyone out there ever use this technique on their perennials and does it work for the Crocosmia.
I'm loving the Buddleia. Or Butterfly bush... I will sometimes call it Butterfly weed which of course is not correct!! I have a couple that I'm waiting to bloom as all five are different species. I think this is the Adonis blue....but, correct me if you think I'm mistaken. The tags were misplaced by the chipmunks or squirrels! I bought a Dwarf blue, Black knight, Adonis blue. Also, one that was a burgundy colour that I believe did not make it... The white one that I will show later is white profusion.
I've yet to catch any decent photos of the butterfly's on them though. I've been running full tilt with showing homes and my middle daughter and her boyfriend. Then a weekend away with the Bear. So if you are noticing weeds while your out there walking my garden....PLEASE feel free to pull them!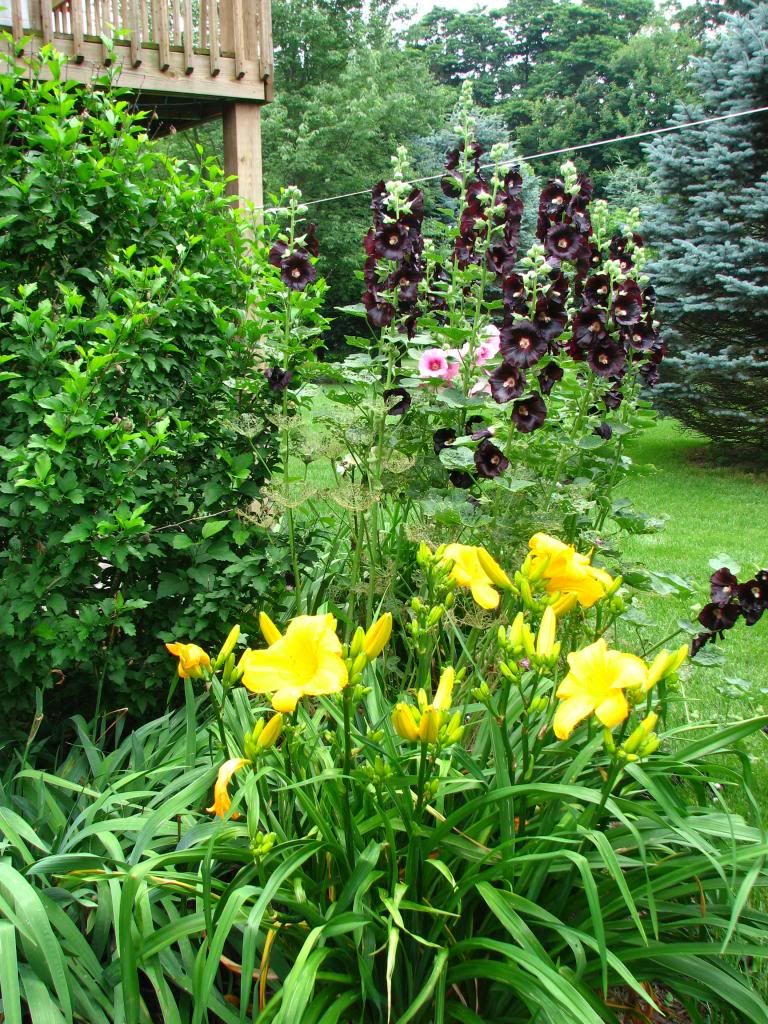 I've shown you photos of the Althaea rosea or Hollyhock before. What I want to show you is how it beautifully set off other colours. You can use it almost like white flowering perennials in between different colour schemes but....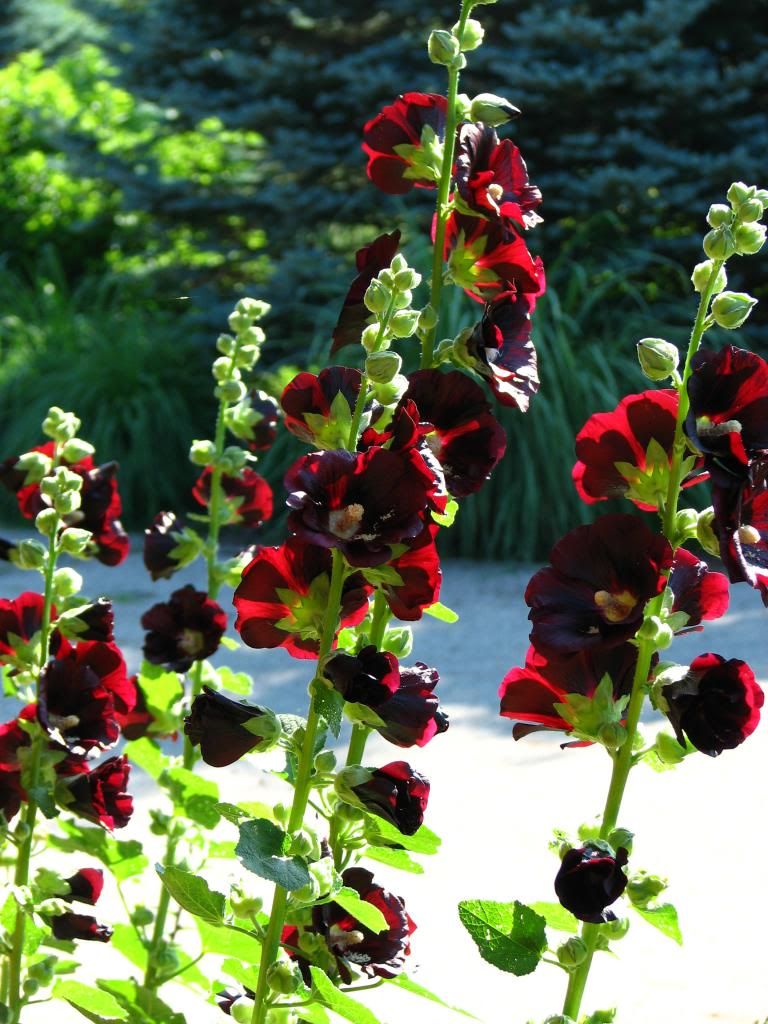 This is the same plant just sitting behind it with the sun coming through it... Honestly!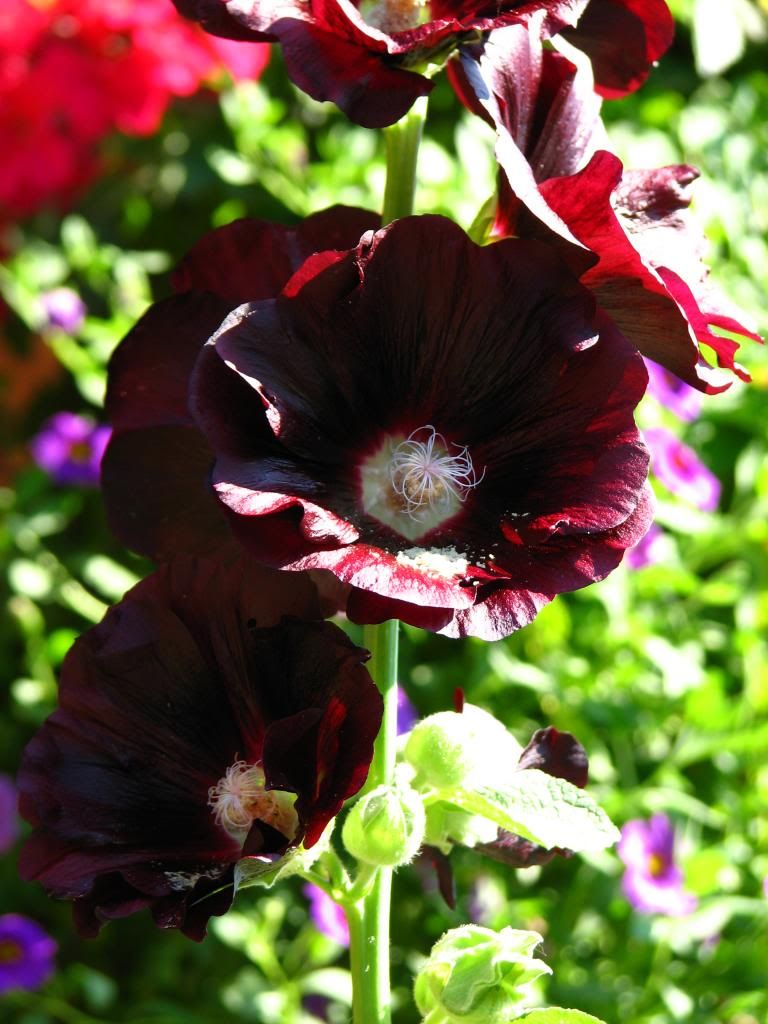 Isn't it absolutely gorgeous.... and yes Brenda...when you get here you are welcome to pick some seeds.
Also anyone else thats walking the garden... I can send you some.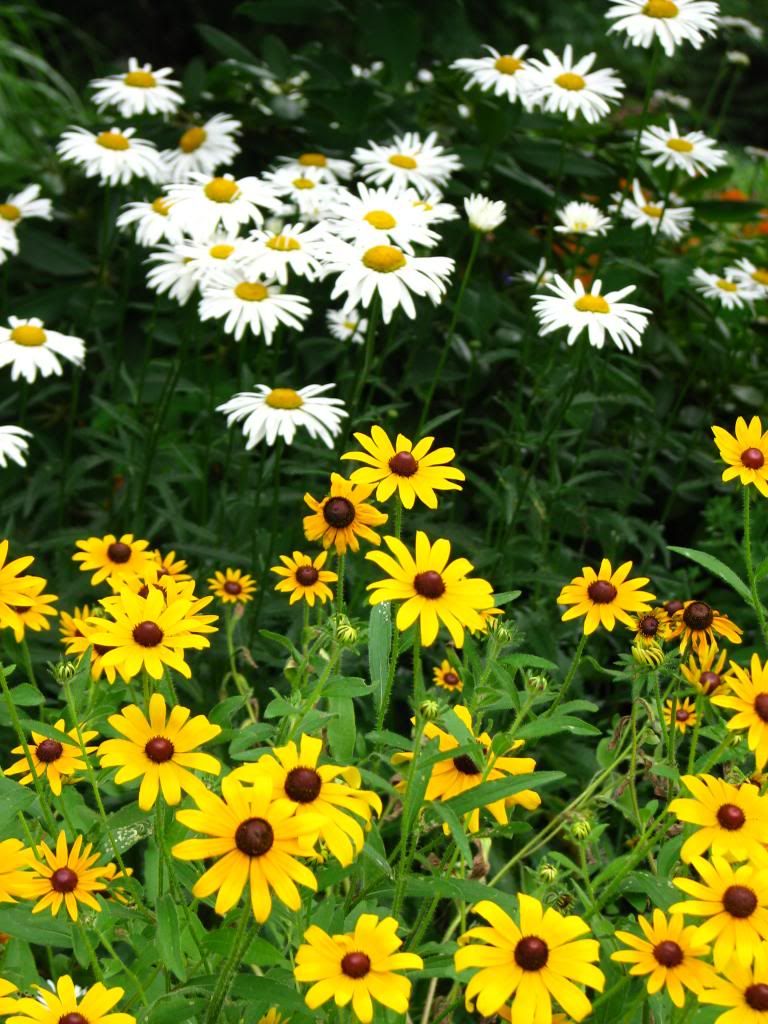 I love when the beds fill in and the weeds are either choked out or hiding peacefully and not catching my eye.
Here's a shot of the Wisteria bloom. July 10th...
I love the soft yellow of this as it first blooms... almost like a Sorbet. Then it demurely fades to a white. Its planted under the tree on the north side of the pond so although not in the Moon Garden its viewed from the top of the deck where we sit at night.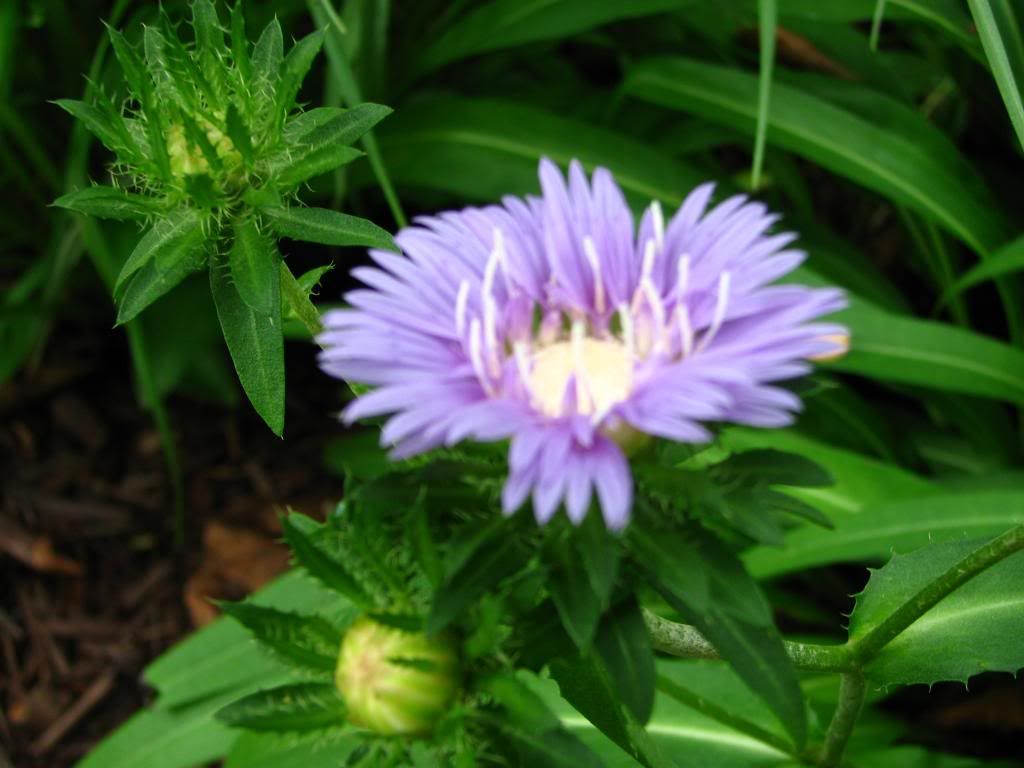 The first Stokes Aster daisy....
On the last flaunt I mention that I had planted this Lobelia or cardinal flower where I really had not planned on having the colour red. But, now can you see why I did it. My pond is a constant source of "calm" for me. A place to gaze and sit and think through the work ahead or at the end of the day to sift through all that has happened. A place of reflection. My garden has always been my meditation and tranquility.
A heat wave settled into Michigan for the past ten days and although the corn is growing amazingly....Its hitting other vegetable crops hard and perennials are certainly blooming and going to seed quicker then they normally would. I love the shaded areas of my garden even more during this heat. Thoroughly watering down deep to the roots early morning before the heat raises too high and the plants shut down their stomata's. Something that a lot of people do not realize. Bear is one of these people. He thinks that okay its 88 degrees out I will water my veggies... I however have watered them first thing or all he would have would be crisp dried out and dead veggies. especially in raised beds!
I'm heading for an ice-cream and maybe to the beach for a dip to refresh myself. In this heat people are leery of being out too long and the office is quiet..
What do you enjoy or do when the summer has turned up the heat....
How do you cope? What are your survival techniques to keep your flowers looking their best? I would love some tips with this as coming from Alberta where 75 was considered hot.... I just don't have the experience to know all the tricks..
Thanks for stopping in and checking out Frog Hollow and please do come again.
Kate
Ps... its now fertilizer friday so Im hooking up with all the great gardeners who join Tootsie each Friday... Its a great way to travel and see gardens from all over without leaving my porch...
Have a fantastic weekend everyone...
http://www.tootsietime.com/